MSU jumps to No. 22 in AP poll after wins over No. 22 UConn and Loyola-Chicago
Allie Cohen, Women's Basketball Beat Reporter
November 29, 2021
EAST LANSING, Mich—After a packed week of college basketball, the Associated Press released its fourth regular season rankings on Monday afternoon; the Michigan State Spartans have made their way into the Top 25, coming in at No. 22. 
The Spartans are not alone in representing the Big Ten, with Purdue moving up one spot to No. 2 after its 80-74 win over No. 6 Villanova and Michigan dropping down four spots to No. 24. The Wolverines suffered two losses last week to No. 25 Seton Hall 65-63 and No. 11 Arizona 80-62. 
Wisconsin is also ranked at No. 23 after knocking off No. 15 Houston 65-63 and St. Mary's 61-55 in the Maui Invitational Tournament to win the championship.
From Nov. 24-26, MSU played three games in the annual Battle For Atlantis tournament, reaching the championship game before being downed by No. 6 Baylor 75-58. 
Although the Spartans did not win it all, they did pick up one ranked win and two current Quadrant 1 wins over Loyola Chicago and UConn.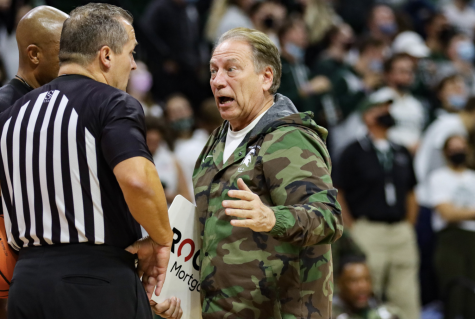 On Nov. 24, MSU opened the tournament with a narrow 63-61 come-from-behind win over Loyola Chicago. The Ramblers, coached by former MSU grad assistant Drew Valentine, led the Spartans 56-55 with four minutes remaining, but couldn't close the deal. A lob from transfer point guard Tyson Walker to center Marcus Bingham with five seconds left secured the narrow two-point win. 
Junior forward Malik Hall set a new career high with 21 points on 9-for-9 shooting from the floor.
After jumping out to a 32-24 halftime lead on Thanksgiving over UConn, the Spartans fell behind 57-51 with 3:19 remaining before a late surge, including eight straight Julius Marble points, gave them their second nail-biting win of the tournament. 
Gabe Brown led the Spartans to the win over the Huskies with 16 points and 10 rebounds, both team highs.
Despite trailing No. 4 Baylor by only two points at halftime in Friday's championship game, MSU was outscored 37-22 in the second half en route to a 75-58 loss. With their performance in Atlantis, the Spartans are currently 5-2 on the season.
MSU is set to host Louisville on Wednesday evening at 7 p.m. as part of the annual Big Ten-ACC Challenge.  The Cardinals are currently 5-1 on the season with wins over Mississippi and Maryland and a 80-72 home loss to Furman on Nov. 12.