Previewing Penn State at No. 12 Michigan State
EAST LANSING, Mich—The last regular season game of this roller coaster ride of a year for No. 12 Michigan State is already less than 24 hours away.
The Spartans are coming off a historic seven-touchdown loss to Ohio State, ending all hopes of a trip to Indianapolis for a shot at a Big Ten title. Nonetheless, there is much still at stake for MSU on Saturday, as the Spartans look to attain their first 10-win season since 2017 against the Penn State Nittany Lions as well a potential New Year's Six Bowl berth. 
The path to victory on Saturday will be far from an easy one. The Nittany Lions ranked first in the Big Ten in scoring defense, limiting their opponents to just 15.5 points per game.
PSU, 7-4 on the season and 4-4 in the Big Ten, has lost all four games by less than 10 points, including a narrow 23-20 loss to Iowa on Oct. 9 and a 21-17 home loss to No. 6 Michigan on Nov. 12. 
The Nittany Lions also set a collegiate record with a nine overtime 20-18 loss to Illinois on Oct. 23.
However, Penn State lacks in production in rushing defense as it sits at seventh in the conference. Of course, the running game is where MSU thrives, but a limited Kenneth Walker III could force the Spartan offense to have to adapt.
MSU still has other weapons in its backfield, though, as running backs Jordon Simmons and Elijah Collins are capable of stepping up as go-to options in the rushing game.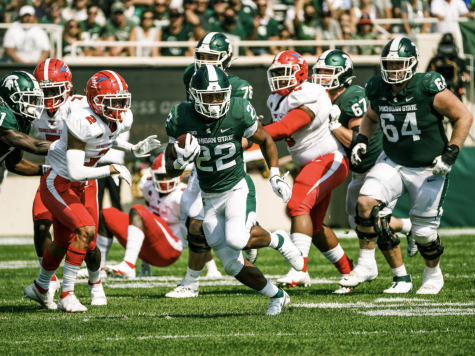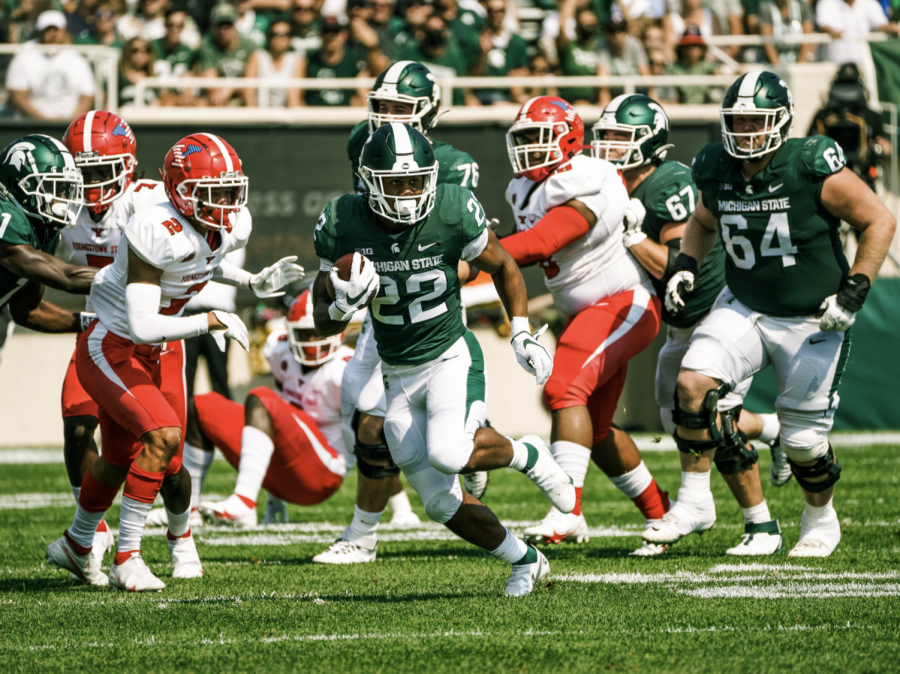 Simmons averages 23.18 rushing yards per game on just a total of 54 attempts this season. Collins, who has the most experience in the Spartans' backfield, having led the team in total rushing yards just two seasons ago, is a reliable asset on the ground, and could once again be called upon as the primary option for MSU's rushing game on Saturday.
There's not much to worry about on the Spartans' end in terms of Penn State's rushing ability (PSU has not had a 100-yard rusher in a single game this season), but the Nittany Lions do pose a threat in the air. Penn State averages 270.9 passing yards per game, which could create problems for an MSU secondary that just gave up 449 passing yards in the loss to Ohio State.
The Spartans excel in that area of offense themselves, though, ranking just behind the Nittany Lions in passing yards per game (243.3) in the conference. It's unknown whether MSU's high-powered receiving duo of Jalen Nailor and Jayden Reed will be available for Saturday's contest or not, but key contributors like Tre Mosley, Keon Coleman and Montorie Foster are all MSU needs to have a successful day in the air.
Prediction: Michigan State 35, Penn State 20
As nearly every MSU opponent has done all year, the Nittany Lions will have their way in the passing game with receiving threats like Parker Washington and Jahan Dotson. Dotson is second in the Big Ten in receiving yards per game with 95.0 and third in the Big Ten with 1,045 receiving yards and 10 receiving scores.
However, this Spartan defense is known for bending but not breaking, making it reasonable to anticipate MSU to force Penn State to settle for at least a couple field goals. 
Furthermore, Penn State has allowed 28 sacks this season, the second-worst mark in the conference. That's not a recipe for success against an MSU team that has notched 33 of their own this season, the second-best mark in the Big Ten.
The Spartans have one last shot to leave it all on the line at Spartan Stadium this season on senior day, and whether Walker makes an impact on the ground or not, it's safe to assume the offense will look to dominate the game from start to finish after a very poor outing in Columbus.
Look for MSU, who is a perfect 5-0 at home this season, to land the first blow and control the tempo against a fatigued Penn State team that has only one road win this season against a team with a winning record (Wisconsin on Sept. 4) and a 3-2 overall record away from Beaver Stadium.
Kickoff for this conference showdown begins at 3:30 p.m. on Saturday.