PREVIEW: Spartans host Badgers to conclude November
EAST LANSING — The MIchigan State Spartans (6-5-1, 1-3-0 Big Ten) will conclude the month of November when they host the reigning Big Ten regular-season champion Wisconsin Badgers (4-8-0, 2-4-0 Big Ten) at Munn Ice Arena for the first time since Wisonsin's title-clinching 2-1 victory in March 2021. 
The Spartans are coming off a sweep of in-state rival Ferris State in a home-and-home series. Michigan State secured a 2-0 victory in the series opener at home thanks to Mitchell Lewandowski's fourth goal of the season with just under seven minutes left to play in regulation. Lewandowski, who was making his return to the Spartan lineup after a five-game absence, took a pass from Jesse Tucker and went top-shelf on Ferris State netminder Logan Stein to give the Spartans a 1-0 lead. Sophomore Aiden Gallacher would score his first goal as a Spartan with an empty-net tally with 1:16 left in the third period, giving the Spartans a 2-0 victory and snapping a three-game losing streak.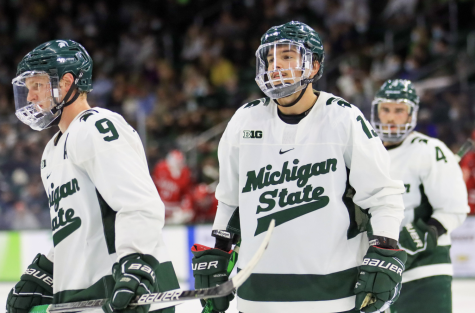 Michigan State was able to secure its second sweep of the season after coming back from a 3-0 deficit on Saturday night in Big Rapids. The Spartans fell into the 3-0 hole due to special teams tallies by the Bulldogs (two on the power-play and one shorthanded). The Spartans, however, would get their first power-play goal of the series to cut the deficit to two with a Josh Nodler goal with just under two minutes left in the second period. The Spartans would storm back with three goals in the final seven minutes of the third period, including Erik Middendorf's game-winner with 20 seconds left, to give the Spartans the 4-3 victory and their second sweep of the season. Coincidentally, it was the first time that Michigan State came back from a 3-0 deficit to win a game since a 2004 matchup against Ferris State.
Wisconsin comes into the series having played four-straight series against nationally ranked opponents, including No. 1 Michigan and No. 5 Minnesota. The Badgers were swept in their last series against No. 15 Notre Dame and were outscored 8-1 in the process. Wisconsin graduated their four top scorers from last season, including Cole Caufield, who single handedly outscored the Spartans 7-2 in four meetings last season. Brock Caufield (Cole's brother) and Corson Ceulemans currently lead the Badgers with five points apiece. 
The Badgers lead the all-time series 60-59-4, but Michigan State leads the series in games played in East Lansing with a 31-22-2 record. Wisconsin won all four meetings last season, outscoring the Spartans 16-2 in those games. Before last season's sweep, however, Michigan State had won five out of the previous 10 matchups, including a three-game win streak during the 2019-20 season.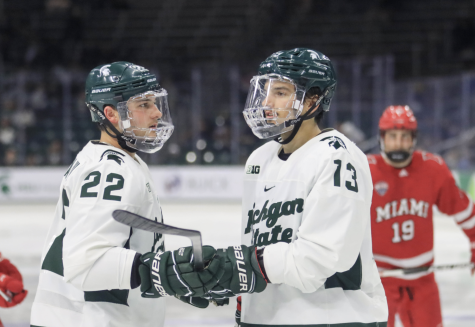 Wisconsin wins if…
…it can score on the power-play. Michigan State is 2-4-0 this season when allowing a power-play goal and 4-1-1 when holding the opposition off the scoresheet on special teams. Wisconsin, however, does not have a very good power-play. The Badgers currently rank near the bottom in the nation in power-play percentage at 10%, which is a night-and-day difference from last season. If Wisconsin, who has yet to prove it can score at even strength consistently, wants to compete in these games against a Spartan team that has fixed its scoring woes, it will need to find a way to convert on the power-play. 
Michigan State wins if…
…it scores three or more goals. As previously stated, Wisconsin does not score a lot of goals. The Badgers have scored three or more goals three times this season (all wins) and they have failed to score more than two goals in all of their losses this season. The Spartans, however, are currently undefeated this season when scoring three or more goals (3-0-0). It's simple: the first to get to three goals wins, and Michigan State seems the likelier of the two teams to hit that mark. 
Puck drop for Friday night's game is scheduled for 7:00, while Saturday night's matchup is slated to begin at 8:00.