Michigan State dealing with key injuries
Zac Slowik, News Editorial Assistant
November 13, 2021
EAST LANSING – The Spartans have lost some key players on each side of the ball since their big week eight victory against the Michigan Wolverines. Michigan State loses depth on each side of the ball, making other players step up into new or bigger roles.
On the offensive side of the ball, the Spartans lost two key linemen. Senior Matt Carrick suffered a season ending injury. Michigan State has also been without Senior Jarret Horst, who has not dressed since the week eight victory over the Wolverines. Senior Kevin Jarvis will move over to right tackle from right guard. While AJ Arcuri will move from right to Left tackle. Each started all seven games last year, and will be tasked with protecting quarterback Payton Thorne.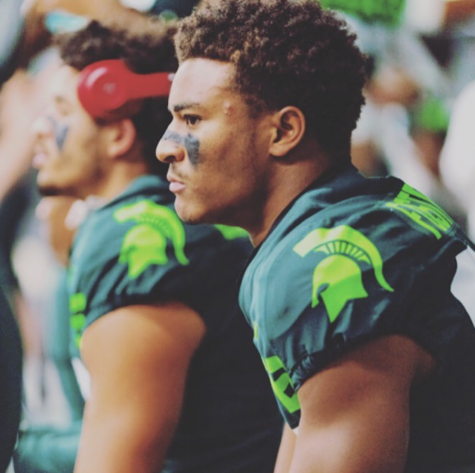 The offense also lost a key weapon in junior wide receiver Jalen Nailor. Nailor went down at the end of the first half against the Wolverines with an injury to his right hand. With Nailor out for an unknown amount of time, the Spartans and Thorne will have to look for new explosive options in the passing game. Jayden Reed has struggled with the absence of Nailor, seeing much more double coverage. Tre Mosley emerged as the clear slot wide receiver early on in the year. Sophomore Montorie Foster will have to step up and play on the opposite side of Jayden Reed.
On the other side of the ball, the Spartans are without Tennessee transfer linebacker Quavarius Crouch. Crouch was not expected to miss any time playing the complete game against Purdue. Without Crouch, Cal Haladay and Noah Harvey will have to fill out the middle. Through nine games Crouch was the second leading tackler for the Spartans with 72 total tackles.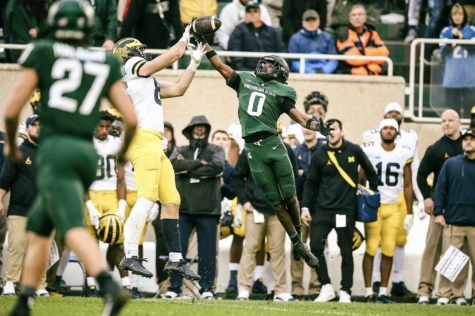 Michigan State will also be without freshman stand out corner Charles Brantley for the remainder of the season. Just one week after a game winning interception against in-state rival Michigan. Brantley's season would end with an upper body injury. The Spartan secondary has struggled with injury all year. Alabama transfer Ronald Williams, Florida transfer Chester Kimbrough, and Louisville transfer Marquil Lowery in their first season with the Spartans will get most of the snaps at corner. While Senior safety Xavier Henderson will lead the secondary/.
The Spartans hope to get healthy before their final two games of the season against Ohio State and Penn State. Through ten weeks Michigan State finds themselves with a 9-1 record, looking for key victories that could place them in the college football playoff for the second time in school history.