Reflecting on the MSU women's soccer season and looking forward to what is next
EAST LANSING -What started as a cinematic beginning will not have its climactic ending. 
The 2021 Michigan State women's soccer season has come to an end after what has been an impressive program turn-around by first-year head coach Jeff Hosler. With an NCAA RPI ranking of 58, the Spartans are left out of the NCAA DI tournament after Monday's tournament seeding. 
However, the future of MSU women's soccer is bright under Hosler and his staff. 
The former three-time DII national championship coach at Grand Valley State University brought his expertise and game-winning tactics to East Lansing, leading the Spartans to a 10-5-3 season. 
MSU has not had a winning season since 2015 when it finished 8-6-4 under former head coach Tom Saxton, but it did not make it into the Big Ten tournament that year.
The reality is that this Spartan women's side has not been featured in the conference tournament since 2011 — a 10-year interval without postseason action. 
The quarterfinals game against Iowa on Oct. 31 was the first time since 2002 that MSU hosted a tournament game at DeMartin Stadium, and the atmosphere on Halloween was electric despite the dissatisfying outcome. 
Some players left the game against Iowa in tears, showing just how much they bought into Hosler and his staff's philosophy. 
"It's hard to realize it right now, but we made big jumps this season," senior goalkeeper Lauren Kozal said after the 1-0 defeat to Iowa.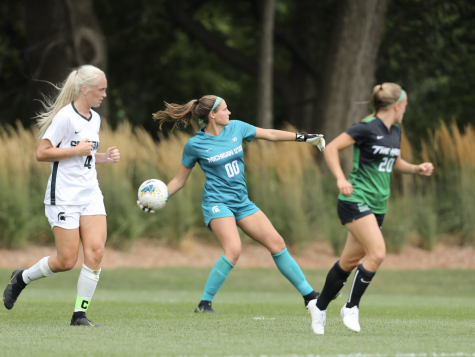 Kozal is absolutely right.
It will take time to see the immediate progress that has been made with, essentially, the same group of players that went 1-10-1 in all competitions in 2020. Only positive reflections will be made, Hosler said. 
Granted, Hosler brought the likes of forwards Ava Cook and Lauren DeBeau to the team, in which they combined for nine goals and five assists since transferring to MSU. 
Cook and DeBeau made key differences to the way the Spartans controlled their attacking game. DeBeau's careful dibbling and ability to create opportunities complemented Cook's natural attacking talent. 
After all, Cook was destined to be the teams' top goalscorer after leaving Grand Valley State with 76 goals to her name — the best out of any player in the country. 
It was not only her scoring ability that impressed many at MSU, but it was her positive character and leadership. 
"She's a special player," Hosler said after Cook's brace against Maryland on Oct. 21. "She's really tough, very grounded and always wakes up the next day ready to get back to work."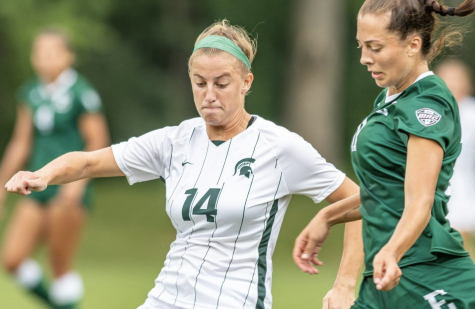 Cook ended her first season at MSU ranking in fifth place in the Big Ten in shots on target (29), and she had three game-winning goals. 
Then, sophomore midfielder Zivana Labovic became a prominent figure on this team, carrying over her excellent form from her freshman year to 2021. 
Labovic ended the 2020 season as the top goalscorer in her freshman year with three goals. 
With four goals and two assists this season, Labovic played a handful of positions where she recorded 1,371 minutes on the pitch — the most out of any midfielder on the team. She controlled the holding midfield role alongside Bella Jodzis and Danielle Stephan, but in the latter half of the season, she played on the right wing, where she created many attacking opportunities.
Most of her playing time in 2020 was as a forward.
"She (Labovic) is a smart player," Hosler said. "When she switches (roles), she's really good with her technique and combination play." 
Labovic will continue being a crucial player for the Spartans next season as a junior.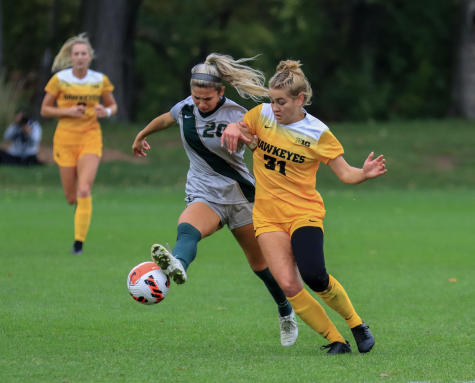 Collectively, MSU ranked fourth in the conference in the least goals allowed with 13. Last season, they gave up 23 goals, placing them in second-to-last place.
Senior defenders Samantha White and Abby Gardiner, alongside Kozal, improved the Spartan defense in 2021. Right back Raegan Cox was also listed in TopDrawerSoccer's women's team of the week in September, an important national recognition for the junior defender. 
Where did it go wrong for the Spartans?
Despite the important wins against teams like Indiana and Minnesota, the Spartans came up short against ranked oppositions in Michigan and Rutgers, both of whom made it to the Big Ten tournament final and clinched a spot in the NCAA tournament. 
"After the Rutgers match, I was so proud of our efforts," Hosler said. "We didn't get the results, but we played two of the best teams in the country back-to-back and on the road." 
Two 1-0 losses against undoubtedly two of the best programs in the country, certainly in the conference, was nothing but a learning experience for MSU. In two hostile atmospheres, Hosler's team gave both Michigan and Rutgers a tough challenge, having played well for the entirety of the game. 
After that difficult stretch of games, the Spartans bounced back with a 2-0 win over Maryland at home but fell to Penn State three days later. The Spartans conceded two goals in the final 13 minutes of the game against the Nittany Lions, which showed that a loss of concentration at a crucial time cost them the match. 
Next, the Spartans faced Iowa in the Big Ten tournament quarterfinals in a fourth/fifth-seed matchup. The game seemed within reach for MSU, given that it was on the winning side of the fixture earlier in the season in a 2-1 victory on Oct. 3. 
In the end, a rare defensive mistake by the Spartans left Iowa's goal-scoring talisman, Alyssa Walker, an open lane to goal, which she converted in the 69th minute. 
A lapse in concentration in the final stretch of the game prevented MSU from reaching the semifinals and ultimately, the NCAA tournament. 
What's next for MSU?
Hosler and his staff have begun recruiting incoming freshmen for next season and are possibly looking for some transfers to add experience and depth to his side. 
On Wednesday morning, the team announced that seven players have committed to play for MSU. Allie Mairn, Morgan Gerak, Emerson Sargeant, Isa Agrusso, Ela Alati, Maggie Illig and Maia Soulis have been officially presented as the class of 2026 recruits for next fall. 
The newly committed Spartans come from mainly Michigan, but there are some from Kentucky, Ohio and Missouri.
With a large class of incoming freshmen, it is clear that Hosler will move on from the eight graduating seniors that have left a memorable impression at MSU. Gia Wahlberg and Sam Sklarski are among the seniors that will be graduating in the spring. 
"These seniors are a special group, and I feel so blessed to have this opportunity to work with each of them," Hosler said in a press release before Senior Night on Oct. 24. 
The Spartans have a promising future ahead of them with Hosler at the helm, and fans should feel optimistic when they return to DeMartin Stadium next fall.