The value of Marcus Bingham Jr. and Max Christie on this season's MSU men's basketball team
Manit Patel, General Assignment Reporter
November 9, 2021
The Michigan State Spartans enter the 2021-2022 season as an unknown. After finishing off their second and final exhibition game with an 83-60 victory over the Grand Valley State Lakers Thursday night, the Spartans may have found a few more things out about themselves and their roster heading into their massive Tuesday night matchup with No. 3 Kansas. The AP Poll listed the Spartans unranked, although they remain first in the others receiving votes category. Along with the unknown, the team brought back only two of its top-five scorers and two of its five starters to end the season. In total, 47.7% of Spartan minutes and 45.7% of Spartan points return to East Lansing this winter. 
Enter Marcus Bingham Jr. and Max Christie. While the duo has seen extremely limited time on the court in college, Bingham being an unproven senior and Christie being a freshman, they will catalyze the Spartan season. Ultimately, they could make the difference for a Michigan State team that's looking to usurp expectations and make a deep tournament run this season after losing in the First Four last March. 
Bingham, a senior from Grand Rapids, Michigan, was a four-star recruit ranked 66th in the 2018 class by 247Sports. Over his three prior years in East Lansing, Bingham has struggled. While he was buried beneath the depth chart, Bingham showed flashes but was mainly a player who showed promise without consistent production. This offseason, Bingham worked. 
"He's stronger, but can afford to put on weight," Michigan State coach Tom Izzo said. "He's better on ball screens and defensively in general."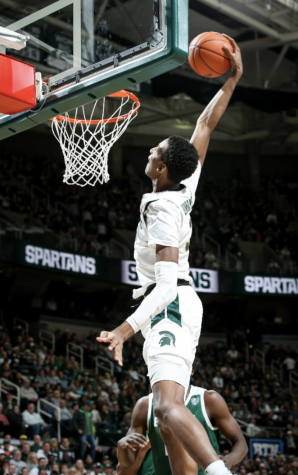 Bingham grew an inch over the offseason, becoming a member of the seven-footer club, and exposed Spartan fans and future opponents to what he can do with that new wingspan after a six-block performance against Grand Valley State on Thursday night. He added 10 points and seven rebounds, but if Bingham can continue that kind of production going forward, he could establish a role for himself as the Spartan's go-to big man. In doing so, he could potentially be next amongst Draymond Green, Jaren Jackson Jr, Xavier Tillman and Nick Ward. Another big upside to Bingham is that he, along with Joey Hauser, Julius Marble and Malik Hall, has shown the ability to pick-and-pop instead of the traditional pick-and-roll. 
"This summer, everybody worked on their game and body, had a good time with it, and everybody was switching up their game, and this is a result of that work," Bingham said.
With Bingham at the helm, this deep group of forwards looks to be a strength of a talented Spartan roster.
Along with Bingham, Christie is another catalyst for the Spartans this season. The incoming freshman from Rolling Meadows, Illinois, was ranked 19th in the 2021 recruiting class by 247Sports. In his senior year in high school, Christie averaged 24 points per game to go with 10.1 rebounds per game, 3.9 assists per game and 3.1 steals per game. Right off the bat, you look at Christie's points per game number, which is very promising for Spartan fans. Christie has the potential to be the clutch bucket-getter that the Spartans need. 
"Max is a killer, man," Bingham said. "Seeing what he can do with the ball, we see it every day in practice, and he keeps growing and getting better every day."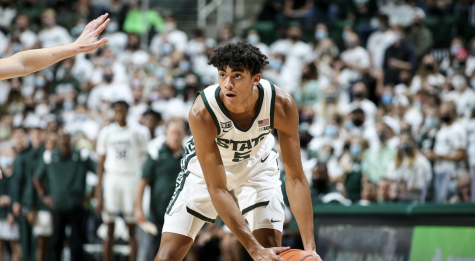 Christie, in his two exhibition games, scored a total 31 points, adding seven rebounds, shooting 11-of-19 from the field while going 3-of-8 from the 3-point line. His defensive impact has also been felt. Christie's a good on-ball defender with an above-average off-ball skill set, and that was recognized by both Coach Izzo and A.J. Hoggard. 
"He's very versatile, he's going to score the ball, he's going to defend, he's going to rebound, he's going to offensively rebound," Hoggard said. "He's going to do all the little things to make sure he's effective all across the board, even if he's not scoring, it's the intangibles he brings to the game. I love playing with Max."
When the Spartans need a basket this season in a close game, Christie is going to be a scorer they lean on. He has the upside to do it consistently and has showcased the ability to just turn on the scoring like a switch. In the second half against Grand Valley on Thursday, Christie scored nine points in 11 minutes while being aggressive and scoring from all three levels during that stretch.
While they were only exhibition games, Bingham and Christie showed flashes of potential of what they can be this season for Michigan State basketball. The Spartans open their regular season up against Kansas next Tuesday at 7 p.m. as a part of the Champions Classic at Madison Square Garden.