Christie, defense lead Spartans to win over Grand Valley in final exhibition game
EAST LANSING — Michigan State passed its final test of the preseason on Thursday night, defeating the Grand Valley State Lakers by a final score of 83-60 at the Breslin Center. 
The Spartans will next take the floor on Tuesday to face Kansas for the 2021-22 regular season opener at the Champions Classic. 
Freshman shooting guard Max Christie led the Spartans with 14 points while Marcus Bingham Jr. had seven rebounds and six blocks. 
"We did a good job defensively and pushed the ball well offensively, but I was disappointed in our half court offense," Michigan State head coach Tom Izzo said following the game.
Michigan State was able to dominate the glass against Grand valley, as the Spartans held a 40-18 edge in points in the paint and outrebounded the Lakers by 10. The Spartans also blocked eight shots with Bingham Jr. leading the way.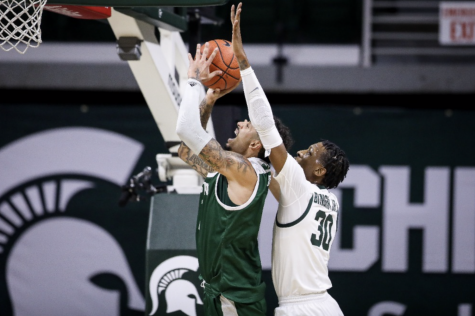 "Marcus Bingham Jr. might have played as good defensively as he did offensively," Izzo said. "Not just with the six blocks but his ball screen defense that was missing in action last year, it was pretty good tonight."
Michigan State scored the first nine points of the game, capped off by a layup from Christie. Bingham Jr. set the tone early on the defensive end for the Spartans, blocking two shots in the first three minutes of Thursday's contest.
It would continue to be all Spartans out of the gate, as they led 26-8 with 9:30 remaining in the first half after a 3-pointer from Gabe Brown, who led Michigan State with 19 points during the exhibition opener against Ferris State. 
Grand Valley would tighten the score to 30-18 with a 10-4 run over the next five minutes of play, but the Spartans bounced back with an 8-2 run to close out the first half. After 20 minutes of play, Michigan State led 38-20.
Joey Hauser led all scorers in the first half, putting up eight points on 3-of-5 shooting in 12 minutes. Brown had six points in the first half on 2-for-4 shooting from deep, while Bingham Jr. and Christie each added five points.
Hauser and Christie each put up a quick five points in the first four minutes of the second half as the lead continued to expand for Michigan State. The Spartans opened the half with a 16-7 scoring stretch, growing the lead to 54-27 with 14:49 remaining in the game.
Michigan State was able to consistently hold a 20-point lead as the second half moved along, gaining a 67-45 advantage after a Christie layup with 7:56 to go. A putback from Jaden Akins pushed the Spartans lead to 75-49 with just under five minutes to play, and at that point, the deficit was just too large to overcome for the Lakers. 
Back-to-back 3-pointers from Bingham Jr. and Brown further opened the game up, giving Michigan State a 83-51 lead with 2:56 left to play. Izzo pulled his starters after that, allowing Pierre Brooks, Davis Smith, Michael Peterson, Peter Nwoke and Steven Izzo to put the finishing touches on a 83-60 victory.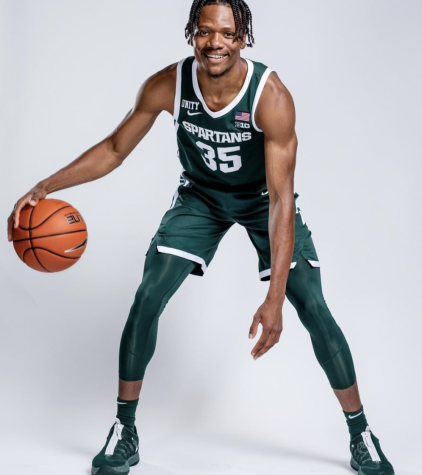 "Three point shooting was a disappointment, free throw shooting was a disappointment, but there were a lot of positives," Izzo said. "We don't have to worry about any more exhibition games because we watched Kansas last night and things get a little more real now."
Christie led the Spartans with 14 points. Hauser stuffed the stat sheet, putting up 13 points, nine rebounds and five assists. Bingham Jr. also had a productive night, posting 10 points, seven rebounds and six blocks.
"I've been very pleased with Max (Christie), he's a treat to coach," Izzo said. 
Free throw shooting, an area that Izzo would like to see the Spartans improve on ahead of the regular season, was a struggle against the Lakers, as the Spartans went just 11-of-20 (55%) at the line.
"We are really a good free throw shooting team," Izzo said. "I've got the stats to show you. We shot them all summer, and so that means it's a little lack of focus or something. Those things are controllable."
Michigan State will next take the floor on Nov. 9 for its season opener against Kansas in the Champions Classic at Madison Square Garden. 
"It's a different story, it's a different year, it's a different team," Bingham Jr. said. "We're going to go into these practices tomorrow, the next day and Sunday and prepare for them hard. We really want this game and we have to show it."
You can follow Luke Sloan on Twitter @LukeSloan_7.