Fatima Giron earns Big Ten Cross Country Women's Athlete of the Week
Manit Patel, General Assignment Reporter
October 27, 2021
EAST LANSING, Mich— After garnering a first-place finish in the women's 5K race at the Eastern Michigan Fall Classic in Ypsilanti on Friday, Michigan State sophomore runner Fatima Giron was named as the Big Ten Cross Country Women's Athlete of the Week, which was announced Wednesday by the Big Ten conference.
Giron finished with a time of 18:07.3, pacing a top-five in which three of her fellow Spartans placed within. Spartan junior Courtney Krupp finished 3.6 seconds behind Giron to earn a second-place finish, while freshman Kate Stewart-Barnett and junior Noelle Adriaens finished third and fifth.
The Fall Classic was Giron's second-best 5K time of the season, with her best time being an 18:00.8, good for second at the Drenth Memorial in September. While Giron has put on performances similar to that of this past weekend's before, this is her first time being honored in the conference's weekly awards.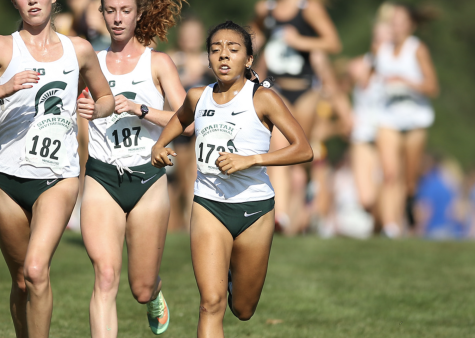 This also marks the third time a Spartan runner has earned the Big Ten Cross Country Women's Athlete of the Week this season, with senior Jenna Magness earning both previous considerations the week of Sept. 29 and Oct. 20. 
Prior to the event, the Spartans had finished first in both the Jeff Drenth Memorial and Spartan Invitational, fifth at the Griak Invitational and 12th in the Nuttycombe Invitational.
Michigan State will compete in the Big Ten Championships this Friday in State College, Pennsylvania, as the team seeks to win its third-straight conference title, while the men's team seeks its first since 1971.