MSU vs. Michigan set for noon kickoff on FOX
EAST LANSING— No. 9 Michigan State will take on No. 6 Michigan at noon on Oct. 30 as part of Fox's "Big Noon Kickoff."
The announcement, which came on Monday afternoon, will feature announcers Gus Johnson and Joel Klatt.  In 2020s 27-24 victory over No. 13 Michigan, the Spartans were in the same time slot on Fox.
Both teams are currently undefeated; MSU is off this week while Michigan is set to host Northwestern. The Oct. 30 matchup will be the 69th overall matchup for the Paul Bunyan Trophy, and the Wolverines lead the all-time series 38-28-2.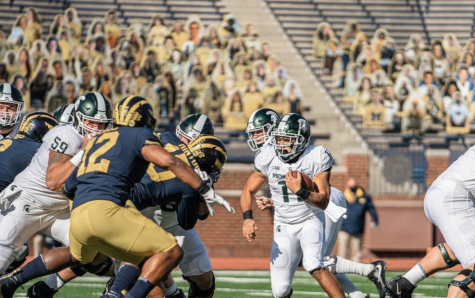 Overall, dating back to 1898, Michigan leads the all-time series 71-37-5. It took the Spartans until 1913 to knock off Michigan, a game they won 12-7.
The Spartans, meanwhile, have won nine out of the past 13 matchups dating back to 2008. Michigan's last road win at MSU came in 2018, a game in which the No. 7 Wolverines knocked off the No. 24 Spartans 21-7 on Oct. 20. The Wolverines have won the past two matchups at Spartan Stadium dating back to 2016.
Both teams have had some memorable games in highly-rated matchups; in 1999, No. 11 MSU knocked off No. 3 Michigan 34-31 in East Lansing. In 2003, No. 13 Michigan beat No. 9 MSU 27-20 on the road.
For reference, the last time both teams were in the AP Top-10 while playing each other was in 1964, a game No. 4 Michigan won 17-7.