Davidson's late goal propels Spartans to win over Miami
EAST LANSING — Michigan State was able to start the weekend off strong in its opener against Miami (OH) on Friday night. It was a tight contest the entire game, but the Spartans were able to pull out a 3-1 victory over the RedHawks. 
This was Michigan State's first meeting with Miami since the CCHA disbanded in 2013, but there was no love lost between the former rivals. It was a very physical game with lots of big hits, penalties and theatrics behind the play. 
Michigan State came out hot early, taking a 1-0 lead eight minutes into the first period thanks to a power-play goal by sophomore Jeremy Davidson. Miami wasn't phased by the early deficit and came back with lots of scoring opportunities throughout the first, but sophomore goaltender Pierce Charleson shut the door.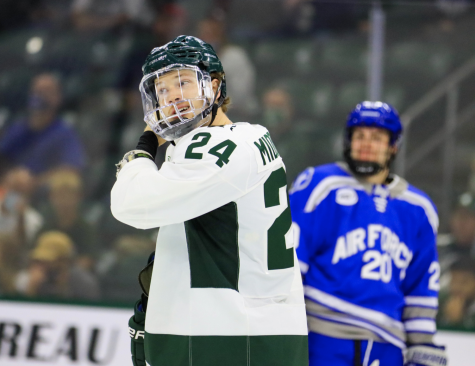 Miami came out of the first intermission on fire and continued to get scoring chances. Junior Joe Cassetti was finally able to get one past Charleson halfway through the second, tying the game. Charleson would shut the door the rest of the night, stopping 28 of Miami's 29 shots.
Late in the second, the Spartans had an opportunity to take back the lead on a Mitchell Lewandowski breakaway, but Miami goaltender Ludvig Persson made an incredible glove save to keep the game even.
Michigan State controlled the game early in third, and thought they had taken lead seven minutes in, but Kristoff Papp's goal was waived off due to an interference penalty by Christian Krygier on the side of the play.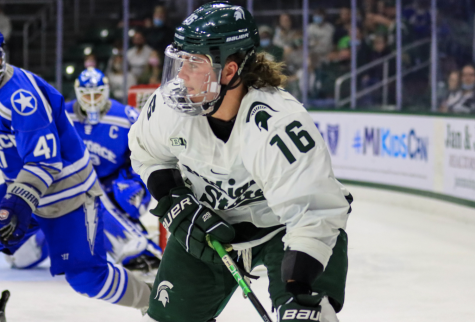 This changed the momentum of the game, as Miami was able to avoid trailing and ended up on a power play. On this power play, Miami thought they had taken a lead of their own after a scrum in the crease, but the refs waived it off.
After weathering continued pressure by Miami, the Spartans took the lead with four minutes to play thanks again to Davidson with his second goal of the night off an impressive pass by captain Dennis Cesana. Junior Jagger Joshua would seal the deal in the final minute, scoring an empty-net goal to secure the 3-1 victory.
The Spartans finish their series tomorrow night against Miami at 7 p.m. with the hopes of a sweep.