Spartans fall to .500 with loss to No. 3 Wisconsin
EAST LANSING — The Michigan State Spartans found themselves on the losing side of a sweep to No.3-ranked Wisconsin on Friday night. Even with a strong first set, the Spartans were no match for the Badgers top-rated offense.
Wisconsin's right side hitter Devyn Robinson had 10 kills and three blocks, and that along with middle blocker Dana Rettke's six kills and six blocks led the Badgers (14-1 overall, 6-1 Big Ten) to a 25-20, 25-10, 25-18 win. 
Michigan State (8-8 overall, 1-6 Big Ten) did show some positive signs throughout the match. Middle blocker Naya Gros was outstanding for the Spartans, as she recorded seven kills and two block assists. Talia Edmonds aided the cause with eight digs in eight attempts. 
"Naya (Gros) stepped up and she wanted the ball really badly," head coach Cathy George said. "We were able to get it to her and she was able to show what she can really do. Talia (Edmonds) also stepped up really well tonight."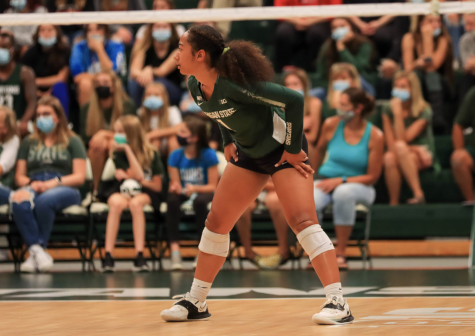 MSU also had solid contributions offensively from outside hitter Sarah Franklin and Cecilee Max-Brown. Franklin recorded nine kills, 33 total attacks and one ace while Max-Brown had six kills and three digs.
The first set was extremely competitive to start. The Spartans jumped to an early 7-3 lead but their advantage fizzled quickly. Wisconsin tied the set at 12 before going on a 6-0 run, making it 18-12. MSU battled back to make it 20-18, but a few kills and a service error on game point led to a one set deficit, 25-20.
The Spartans did not come out with the same intensity and confidence in set two as they had previously. Being held to a -.020 hitting percentage (28 kills, 30 errors, 102 attempts) throughout the match, Michigan State struggled to generate any productive offense to take the lead and quickly fell in set two, 25-10.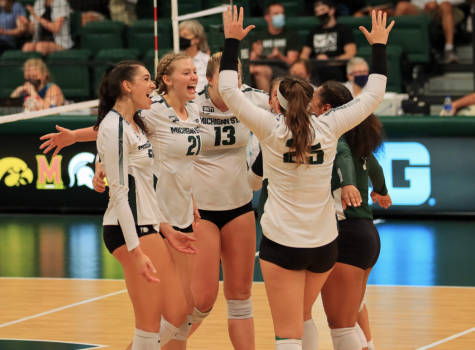 In an extremely competitive third set, the Spartans showed more confidence, tying the set 14-14. Even with a late push trying to extend the match, MSU's defensive rotation continued to break down and easy kills were generated for Wisconsin, as the Badgers won set three 25-20.
Following a third straight loss to a top-10 program, Michigan State has had its hands full in the Big Ten this year. With six Big Ten teams in the top 25 and four in the top 10, George has a "to be the best, you have to beat the best" mentality when facing such skilled conference opponents. 
"You have to use the information you have, and we have been chipping away and improving our game, but they are a very good team." George said.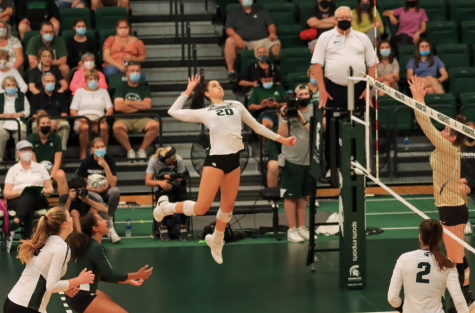 Michigan State has lost five of its last six conference matches and hopes to bounce back Saturday night against Maryland (14-5 overall, 2-5 Big Ten). The Terrapins are coming off a grueling sweep by Michigan, so MSU has a great opportunity to climb over .500 once again. 
Catch all of tomorrow's action at Jenison Field House or on Big Ten Network plus at 6:30 p.m.
You can follow Tom Cavanaugh on Twitter @tcav_sparty.