Previewing MSU's upcoming road matchups against No. 16 Michigan and No. 8 Rutgers
Luca Melloni, Men's/ Women's Soccer Beat Reporter
October 12, 2021
EAST LANSING — Michigan State women's soccer is preparing for a difficult stretch of away games against No. 16 Michigan and No. 8 Rutgers after securing a crucial 1-0 victory over Ohio State on Sunday. 
This week will be the first time head coach Jeff Hosler and his team face ranked opponents this season. 
On Sunday, junior forward Lauren DeBeau scored her second game-winning goal of the season and senior goalkeeper Lauren Kozal added a late-game penalty save to deny the Buckeyes the equalizer and keep the Spartans in third place in the Big Ten standings.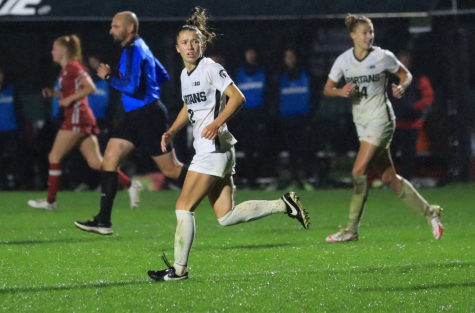 "I couldn't be more thrilled for this group," Hosler said at full time. "We set out to get the three points and we did." 
The Spartans overall record improved to 8-1-3 (4-1-1 in Big Ten) with the win, while their away record stands at a promising 2-0-1. 
Let's take a look at where the Spartans rank individually among the other teams in the conference.
Senior forward Ava Cook has registered five goals and two assists this season, and she leads the conference in shot attempts with 60. The former Grand Valley State attacker has 12 points this season, making her the centerpiece of the Spartans attacking game. 
Cook has a history of scoring goals and providing assists in tournament settings, having scored eight goals in the 2019 DII NCAA tournament. 
On the other side of the pitch, Kozal is in second place in shutouts per game with six, directly behind Indiana's Jamie Gerstenberg, who has eight.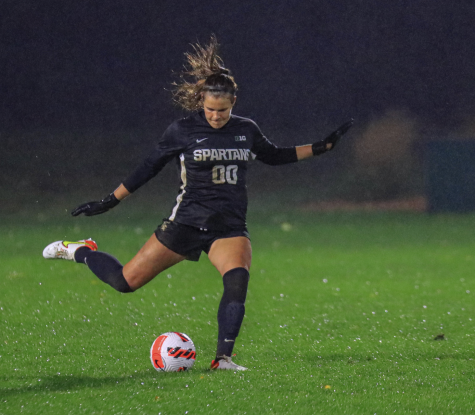 Collectively, the Spartans have only let in eight goals this season, placing them in second place in goals allowed in the conference. They have not conceded more than two goals in a game so far. 
The Spartans have also scored the fifth most goals in the conference with 23. Their upcoming opponent, No. 8 Rutgers, is in first place with 41 goals. 
"We have an incredibly humble group," Hosler said earlier this season on the teams' ambition. "It's incredibly motivating for them when they give everything mentally and emotionally." 
Thursday's matchup against rival No.16 Michigan (9-2-3) gives the Spartans an opportunity to set themselves apart from their recent games against the Wolverines. 
Last Spring, the Spartans suffered a 3-7 loss at the hands of their rivals and they have not won this head-to-head matchup since 2017, when the Spartans picked up a 2-1 victory. 
The Wolverines are coming off a 3-2 win over Nebraska on Sunday, when senior midfielder Raleigh Loughman scored a brace. The San Diego native led the Wolverines to their ninth win of the season and their third in conference play. 
With only 12 goals conceded in the Big Ten, the Spartans will have to be clinical and take advantage of every chance they get in front of the Michigan goal.
The following game against No. 8 Rutgers will present a different challenge for the Spartans.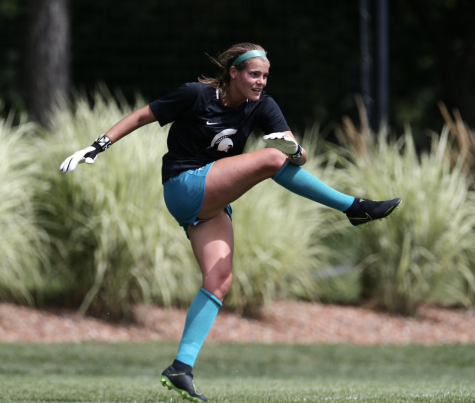 Rutgers (11-2 overall, 6-0 in conference) remains undefeated in the Big Ten and has been on the winning side of every conference matchup. The Scarlet Knights last result was a 1-0 win over Iowa, when sophomore midfielder Becci Fluchel converted a 75th-minute penalty. 
On Thursday, the Scarlet Knights will travel to College Park, Maryland to face off against the last-place Maryland Terrapins before they host the Spartans on Sunday afternoon. 
Rutgers senior forward Frankie Tagliaferri has scored 10 goals this season and has provided six assists, making her the Big Ten leader in points this season with 29.
Tagliaferri ended the spring 2021 season with 10 goals in 16 games.
Rutgers also has a standout freshman in Riley Tiernan, who has seven assists so far this season. Against the Wolverines on Oct. 6, Tiernan produced two assists and propelled Rutgers to a 4-1 win. 
The Spartans will have to make the necessary adjustments to control a potent Rutgers side and leave Piscataway, New Jersey with a promising result. 
With four games left in the regular season, the Spartans look to secure a place in the Big Ten tournament, but they will have to prove their worth against two of the toughest teams in the conference.
Thursday's matchup against No. 16 Michigan is set to kick off at 7 p.m. while Sunday's game against Rutgers will start at 1 p.m.