Matriarchs of Music | Shakira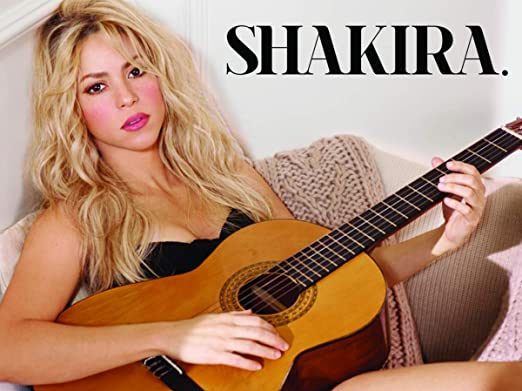 In one of the last good moments of 2020, our television screens had the honor of sitting and waiting, ready for the moment when the highest-selling Colombian artist of all time would emerge on the field in Miami's Hard Rock Stadium for Super Bowl LIV.
Glowing in sparkly red and singing her 2009 song "She Wolf," renowned singer Shakira electrified the crowd. In a performance medlying her top hits with Jennifer Lopez, another amazing Latin artist, Shakira combined music and choreography showing her Colombian and Lebanese heritage, like she has since the start of her career. 
Born in Barranquilla, Colombia in 1977, Shakira began as a Spanish language singer at a young age. Featuring songs she had written since the age of eight, she released her first album, Magia, in 1991 as a teenager. The album, as well as her second, Peligro, did not do well commercially. However, her third album began what would become a decades-long upward trajectory. 
Pies Descalzos was released in 1995 and is considered to be her breakthrough album. After two albums deemed failures, this third album was critical to the singer's success. A third failed album would not look good in the eyes of music producers. Shakira's talent proved itself in the eyes of producers and the charts, selling a few million copies. Her next album, Dónde Están los Ladrones?, was nominated for the Best Latin/Alternative Performance, as well as becoming one of the best selling Spanish language albums in America. 
After finding success in the Latin world throughout the late '90s, Shakira's first English language album, Laundry Service was released in 2001. According to Pitchfork, in her transition to English, Shakira faced a tear in her audience, with the white American audience confused by her English phrasing and unique sound. Still, her single, "Whenever, Wherever" reached number six on the Billboard Hot 100.
As with many women in music in the Y2K era, Shakira was hypersexualized throughout her music and videos. With the combination of her Latin and Lebanese heritage, she was subject to some of the negative stereotypes associated with women from both of these cultures.
The common trope or stereotype prevalent in media for Latin women, according to the Women's Media Center is that of an oversexed, promiscuous woman meant to appeal to men's eyes and not much else.
Similarly, Shakira's love of belly dancing from her Lebanese side during her videos and performances is subject to the common practice of something that isn't sexualized in its original context being condemned as too sexual and amoral when it comes to an American audience and is appropriated, according to The Orbit. However, in more recent times, the dancing that connects her to her heritage is finding a new outlook, according to Cosmopolitan. During her Super Bowl LIV performance, she was celebrated by the Arabic community and by arabamerica.com for showing off her culture to such a wide audience.
This crossover of cultures is what makes Shakira such a strong figure in two different languages' music industries for three decades. Her pride in herself and her culture brings people together behind a soundtrack of rock and pop and folk influences. She never stops experimenting, bringing something new to the music world and serving as an inspiration to many. She continues to release songs in both Spanish and English, finding massive success in both. Her 2006 hit "Hips Don't Lie" was put on NPR's list of Greatest Songs by 21st Century Women, she has won three Grammys, has the highest number of Billboard Latin Music Awards for a female artist, and has been on the Billboard Hot 100 numerous times, with "Hips Don't Lie" being number one for two weeks.
Her hits never stopped coming, with songs coming in both English and Spanish, like 2009's "She Wolf," and 2017's "Chantaje" off of her recent bilingual album El Dorado. Most recently, she has released the singles "GIRL LIKE ME" with The Black Eyed Peas and "Don't Wait Up." Both continue in her unique and legendary mix of amazing dance moves and vast array of musical styles. 
Within a musical career filled with new releases and accolades, Shakira also created the Pies Descalzos Foundation in her hometown of Barranquilla, in order to improve the lives of the children there with a focus on their health and wellness, as well as being a UNICEF Goodwill Ambassador. 
Today, Shakira remains a pillar of the pop and Latin music community and doesn't seem to be slowing down. From being one of the most successful crossover artists ever, to proudly putting her Colombian and Lebanese heritage into her electric performances, and to never falling out of the public consciousness or failing to create something new and unique after decades creating music, Shakira's will always remain one of the most legendary women in music.