Concert Review | A Weekend at the 2021 Pitchfork Music Festival
Luke Adams, Host of Terminally Online
October 6, 2021
Pitchfork returning to Chicago in early September is an indicator of many things. Namely, alongside Lollapalooza and Riot Fest, the biggest festivals of the Midwest have pitched their tents once again. On a greater level, it seems that some of the most ritualized acts of the greater indie scene have returned. For three days this month I got to witness this firsthand, as Pitchfork's ever-growing spectacle consumed Union Park. Beneath all of the dust and heat, I managed to get a long-overdue triple dose of live music.
Curiously, I was not the only Impactor at Pitchfork that weekend. Media Librarian and volunteer writer Matt Cruz received press access and — in an honestly astounding flex — managed to swing an Interview with Pitchfork contributor Ian Cohen. I however have the hindsight of being there all three days. With that in mind, I'll catalog what I think were some of the most exciting happenings from that weekend.
Local Legends, Old Flames
First things first, the lineup this year was titanic. The fact that the first two sets on Friday were coming from rap polymaths Armand Hammer and Detroit's own Dogleg should give a good perspective on how loaded the schedule was almost all the way through to the end.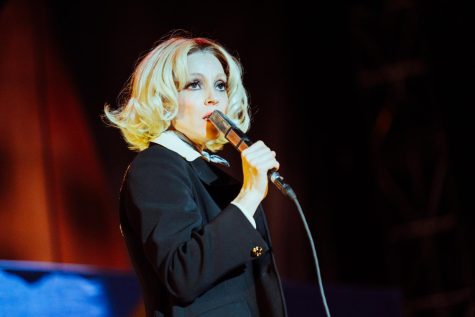 St. Vincent set the bar on Saturday. It's been a good seven years since Annie Clark has returned to Pitchfork, this time emerging as the Saturday headliner. In line with the '70s funk-tinged Daddy's Home, Annie's set was a mix of Soul Train glamour and playful theatrics — like a play-acted phone call where she ribbed Pitchfork for giving the album a 6.8. Her three backup singers felt like essential components to how some of these songs were performed; "The Melting of the Sun" and "…At the Holiday Party" were gifted with lavish vocal arrangements, while their ultra slow-mo walk cycle during "Live In The Dream" only enhanced that song's slow, psychedelic feel. In spite of these more era-specific flourishes, Annie is well aware of her already expansive legacy: "Digital Witness" and "Actor Out of Work" brought the house down during the very beginning of the set.
Clark wasn't the only legend to highlight the weekend. While Animal Collective based most of their set off of a very new, loungier sound, they knew just the right moment to excite the crowd by deploying a classic. They dipped their fingers into fan-favorite album Merriweather Post Pavilion with "In The Flowers" and "No More Runnin'," while indulging me specifically with their carnival-folk whirlwind "Unsolved Mysteries." Best of all, they teased out their less-discussed rock era with a brilliant finale of "The Purple Bottle". The legendary homecoming of day two came from noise-rock legend Kim Gordon, delivering a full set from her 2019 album No Home Record.  While I'm unfamiliar with Gordon's later work, this set was furious and brutal enough to be well deserving of her legacy both in and out of Sonic Youth.
Representing their legacy as a definitively Chicago festival, Pitchfork did not disappoint with their Chicagoan side. I didn't catch Jamila Woods, but was pleasantly surprised to see footwork represented by DJ Nate on day one. Best of all, footwork genre founder RP Boo jumped at the opportunity to replace Jay Electronica following his surprise exit, delivering a maddeningly entertaining set of juke jams.
Hidden Gems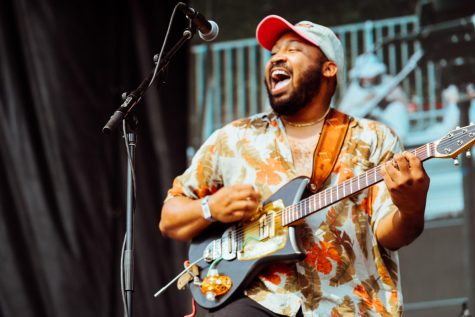 With any music festival, some of the best revelations come from reading the fine print and giving the earlier acts their due diligence. Armand Hammer wasn't the most theatrical act of the weekend, but for 40 minutes, they rapped their asses off. For me, that's more than enough. Maxo Kream's set was a breezy hit parade through all of his best songs, while also boasting one of the festival's best mosh pits. Bartees Strange continues his hot streak as one of modern indie's most exciting acts with a full set of cuts from his debut Live Forever.
In fairness, there were a few earlier acts that dodged my wavelength entirely. Mariah The Scientist was the kind of floaty festival-pop bit that's just a bit too sleepy to my ears. Take this with a grain of salt, this was the exact takeaway I had from Clairo at Mopop 2018. Dehd was a bit more confounding, filling up the entire main stage grounds for a set that left me completely cold. I hope I'm not coming off as mean-spirited; I'm very happy that these artists are getting recognition from a crowd that clearly links with them. At the very least, I found a window to get a hotdog.
The Triumph of Black Midi 
I'm convinced at this point that Black Midi are the festival band right now. They're small enough to fit on an earlier slot, but paradoxically notorious enough to turn heads on any lineup. They've got a fanbase dedicated enough to follow them wherever they go. I talked to people who had seen them in London, San Francisco and even the 2019 Pitchfork Music Festival. Most importantly, they're the kind of band whose live performances strike terror and wonder just from their performances alone.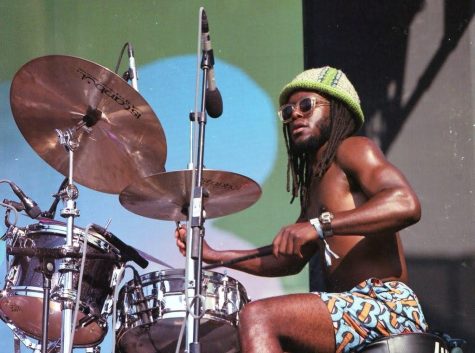 Calling the pit hyenas would be generous. Black Midi had them in a feeding frenzy seconds into the first song that never really ended until the cord was cut. During their particularly hysterical performance of "John L", my shoe was torn off and almost lost as I was trampled by the crowd. Someone even stepped on my bare foot with steel-toed boots. With every member going absolutely insane on their instruments all at once, these songs sound absolutely infernal. Their roots as a prog band do not betray this unbridled intensity that brings out something wicked in people.
I managed to talk to them briefly during Phoebe Bridger's set and they seemed pretty content with this. One of my friends gushed to drummer Morgan Simpson that they're on the level of '80s King Crimson right now and I don't think that's an understatement. They are by far the most important group currently in prog, with a live expertise that's almost untouchable. Consider seeing them a top priority.
Lineup Failures, Big Decisions
Some of the wheels of the festival management were just a bit too loose, and this showed in some moments during the weekend. For example, Yaeji gave an incredibly tight set of hip house gems — which Matt has once again written about extensively — that unfortunately went twenty minutes over schedule and into Phoebe Bridgers' set. Phoebe's performance likely would have been one of the best shows of the entire weekend if the plaintive sadness of "Motion Sickness" and "Garden Song" wasn't fighting for its life against the bass for "Raingurl." This wasn't really flattering to either artist and it also clearly wasn't either of their faults.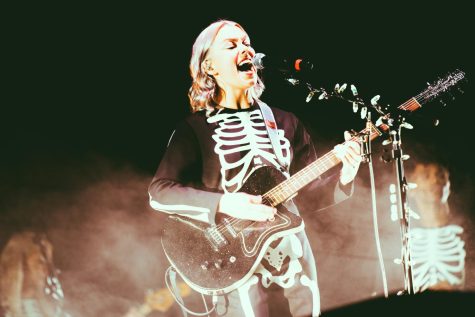 Pitchfork seemed to have planned ahead for Erykah Badu, recalling her extensive history of showing up late — we were spared with a mere 20 minute delay. However, they also committed the crime of kicking the soul legend off not a moment after 9:50 p.m. That's a damn shame considering the legendary status of Badu's entire catalog, but also because the entire crowd seemed to be connecting with her wordlessly in a way that I didn't see at any other set. I was holding out for more from Mama's Gun, but that's not my call to make and Badu ending on "Bag Lady" was at least enough to make me feel like I was witnessing the full extent of her powers.
The only real heartbreaker of the weekend was having to choose between goth-pop enigma Yves Tumor and funk legend Thundercat, although by the time "Dragonball Durag" came on, I felt confident in my decision. Otherwise, there were a lot of schedule conflicts that were almost no-brainers. I skipped Ela Minus to see Fiery Furnaces play a midday set of absolutely demented psyche-pop, bobbing on top of keyboards that would've made The Residents blush. I had gotten my fill of indie folk from Phoebe Bridgers, so I passed on Cat Power to see Flying Lotus absolutely bring his all; it started off as a trance set, morphed into a hit parade, climaxed as he rapped two cuts from his Captain Murphy mixtape and crystallized as he closed on "Do The Astral Plane," allegedly for the first time in years.
Old Friends and New Surprises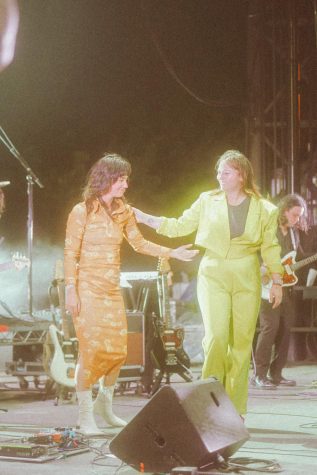 Many of the best sets at Pitchfork did not come alone. St. Vincent's set was aided by Britt Daniels of Spoon fame bringing some terrific guitarwork, especially on songs like "Birth in Reverse" where Annie and Britt's riffs bounced off of eachother. Flying Lotus brought out Thundercat for a soulful performance of "Black Gold" off of his score for the Yasuke anime on Netflix. Danny Brown brought out fellow Bruiser Brigade members Bruiser Wolf and Zelooperz for some late-set cameos. Angel Olsen closed her set with her duet with Sharon Van Etten, "Like I Used To." This Pitchfork Festival is a sort of homecoming for many artists on the festival block, and seeing them mark the occasion with moments like these seems particularly welcoming.
Another curious trend at Pitchfork this year was how it became a runway for artists showcasing new material. Caroline Polachek took some time out of her mostly Pang-based set to debut the chant-y "Smoke" and the tropical "Sunset." Animal Collective continue to tour what sounds like an entire album of unreleased material. Everyone from Bartees Strange to Black Midi had new cuts that they showed off during their sets. Were these special treats for a specific audience? An attempt to jar the Pitchfork's media apparatus by smelting new content on their own turf? Regardless, it seems like a lot of great artists have things on the backburner, which should excite anyone with even a passing interest in anything I've just said over the last ten or so paragraphs.
The Final Pitch
It almost seems trite to end on a COVID callback, but considering the sustained excellence of this year's Pitchfork, it bears repeating. Like it or not, festivals are back with a vengeance. Lollapalooza and most recently Riot Fest have brought back the thunder to Chicago at the very least. I'm hoping we get a lively return to business back in Michigan when Mo Pop returns, but for now, Pitchfork remains iconic within the Midwest festival circuit.