Cole names captains for upcoming season
Marin Klein, General Assignment Reporter
September 28, 2021
EAST LANSING— On Tuesday morning, Michigan State hockey head coach Danton Cole spoke to the media as the 2021-22 regular season opener is only a week away (Oct. 8 vs. Air Force). Cole focused on discussing the leadership he has seen from the team's seniors and especially his newly announced captains, seniors Dennis Cesana, Mitchell Lewandowski, and junior Josh Nodler.
Lewandowski and Cesana were previously named as preseason All-Big Ten honorable mention selections on Sept. 24. Both players have appeared in over 95 games for the Spartans and amassed over 55 points since 2018.
"We like to talk about our program as a character-based leadership program," Cole said. "As a coach, what you wanna see is young men grow up and become men as they are here."
The chosen captains are showing a lot of promise to lead the team this year.
Cole noted that Cesena has proved himself a strong player on the ice and now has a chance to prove himself as a leader to his team on and off the ice. The alternate captains, Lewandowski and Nodler, have also proven that they can handle a leadership role, coming into a season post-COVID.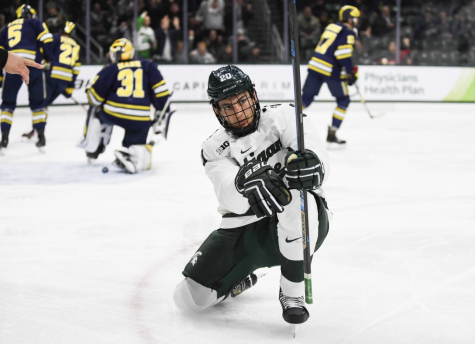 "It's a good base there in terms of different personalities, and different leadership traits, but one thing all of them have in common is that they work extremely hard and they care a lot about their teammates," Cole said.
This season, four seniors also got voted to be a part of the leadership team as well, including defensemen Cole Krygier and Christian Krygier, as well as forwards Mitchell Mattson, and Adam Goodsir. Cole plans to rotate them into assisting captain roles, so even more players get a taste of leadership positions.
"The seniors have to lead that extension of culture," Cole said. "They have to bring that work ethic, and they have to bring what we do on and off the ice, and what we do as a team."
Cole became increasingly passionate as he spoke on the leadership he sees from his team. A big aspect of the team this year is leadership and being together, which is a perfect message to send after a season of COVID and no fans. Cole is very focused on his team being one collective unit on and off the ice.
"[The seniors] will pull the freshman along," Cole said. "That's when you stop having just a team, and you got a program, you got a culture, and these guys have been a part of it"
The Spartans have an exhibition game against the U.S National Development Team in Plymouth on Oct. 2 before their season opener against Air Force on Oct. 8 at Munn Ice Arena.