Spartans drop home matchup 1-0 against Indiana
Adam Bakr, Men's Soccer Beat Reporter
September 26, 2021
EAST LANSING–The Michigan State men's soccer team fell in a 1-0 loss to Indiana at home, taking them to 4-4-1 on the season and 0-1-1 in conference play. 
The Spartans started on the front foot and stayed that way for the entirety of the first half. One of the sides' better opportunities came early on, as Will Perkins made a deep run from his right-back position and sent a cross into the six-yard box. It took a deflection on the way and fell almost perfectly to Zack Babiak, but his goal-bound shot was blocked as he made contact. 
From there, it was a series of half chances that did not fall Michigan State's way for the rest of the half. Connor Brazil tried a half volley on a cleared set piece, and his effort went straight to the feet of Farai Mutatu, who took it in stride well, but his shot was saved by Indiana goalkeeper Roman Celentano. 
Brazil was again on the providing end soon after, this time with a penetrating cross into Zack Babiak. The freshman forward could not catch it cleanly, though, and the shot sailed wide from the edge of the six-yard box. 
The half would not end without a signature long-ranged effort from Mutatu. Nick Stone dribbled his way into midfield, and at the second time of asking, he found Mutatu with a chance to run at the defense and shoot from distance. This was the case for the entire half, though, as it ended up being a relatively comfortable save for Celentano. 
Michigan State's dominance was shown through the stats, outshooting Indiana 9-1 with four shots on target to Indiana's none. 
"We certainly could have been up a goal," said Michigan State coach Damon Rensing. "It's a little bittersweet. You feel good about how you're playing, but you want to be rewarded."
The Spartans were made to pay for their missed chances instantly, as three minutes into the second half, Indiana got its first corner of the game and made it count. Hoosier Spencer Glass's delivery took a series of deflections before landing for Patrick McDonald, who finished into the roof of the net. McDonald, who was not brought on until halftime, quickly justified Indiana coach Todd Yeagley's decision to bring him on. 
"It's a little unfortunate," Rensing said. "Bit of a bang bang play. Chase [Inscho] put a good challenge on that guy–it bounced down, and we didn't have anyone there."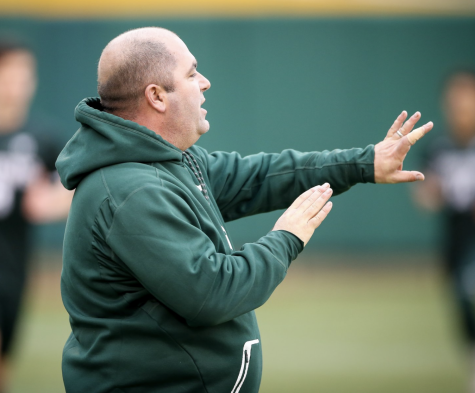 With Indiana sitting on its one-goal lead, Michigan State was not getting nearly as clear cut chances as it got in the first. A rare scoring opportunity came after Gianni Ferri, who made his return after missing the last four matches, got onto the end of Kellen Landefeld's low cross and forced a great save out of Celentano. The rebound bounced up and gave Inscho a chance to head home, but the effort bounced off target and was cleared. 
There were moments that seemed promising as the Spartans entered the final third, but the Hoosiers were never caught out and handled every cross put in, while getting bodies in front of any attempted shot. There were a few penalty shots for Michigan State, but any of them would have made for a very soft call. 
"We did more than enough to try and find an equalizer, but it just wasn't in the cards today," Rensing said. "I think if we keep playing the way we are, then we'll be fine."
Michigan State's three-game home stand wraps up on Friday when Penn State comes to DeMartin Soccer Stadium.