808s & Drum Breaks | "scars" by Baby Keem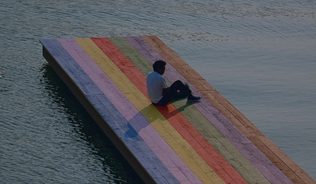 After releasing his breakthrough album DIE FOR MY BITCH, Baby Keem has been on the radar of hip-hop enthusiasts since 2019. In his latest release, The Melodic Blue, Keem cements his status as an up-and-coming force on the scene. With features from Travis Scott, Don Toliver and his cousin Kendrick Lamar, this album undoubtedly has some chart-toppers.
However, Baby Keem is able to shine the most on his solo tracks, with one of the most notable examples being on "scars." In this song, Keem calls into question the foundation of the values he was raised on: religion. He repeatedly calls out to God, begging to know how — and more importantly why — his life has been so tumultuous. 
"I ask God (God)/
Why this life you gave so hard?/
Why all the choices that I make leave me with scars?/
I feel like everyone I meet confuse my heart."
From the melancholy autotuned vocals to the minimalistic instrumental, the influence of Kanye West's album 808s & Heartbreak is evident in this track. In fact, Keem samples the driving drums that are featured throughout the track from Kanye's "Love Lockdown."
He also confronts his addictive personality and ego here, accepting the fact that simply fulfilling his every desire isn't going to bring him happiness. 
"Runnin' them streets, thinkin' that I'll never get touched/
I've hit the point where enough is never enough, yeah/
I gotta see my ceiling with those I trust/
I'd rather feed my feelings with those I lust."
While this seems rather pessimistic, human beings in general have an unquenchable thirst for more. Once we achieve whatever we set out to do, we briefly — if at all — celebrate before moving on to the next thing. Keem seems to accept this as a fact of life, and instead of fighting it, he chooses to feed into it, enjoying the temporary highs of his pursuits of pleasure. 
While Keem has been criticized for his lack of lyrical substance in many of his most popular songs and features, this song proves that he is capable of not only writing insightful lyrics, but also executing them. With clean production, flow and vocal delivery, this song is a standout track on The Melodic Blue. If you check out this album, I highly encourage you to give some of the less popular songs a chance before jumping to a conclusion, Baby Keem might just surprise you.