Lewandowski, DeRidder and Cesana receive preseason Big Ten accolades
EAST LANSING—On Friday, MSU seniors Mitchell Lewandowski, Drew DeRidder and Dennis Cesana were named as All-Big Ten Preseason honorable mention selections. The selections for the preseason All-Big Ten teams were made by the head coaches of the conference.
Lewandowski, a forward who decided to return for a fifth year, has compiled 49 goals and 52 assists for the Spartans in 135 career games. In 2020, he led the Spartans in scoring with 13 points and was tied for the team lead in goals with six, sharing that distinction with forward Charlie Combs.
In addition to being named as an All-Big Ten honorable mention selection three times as well as the Big Ten Freshman of the Year during the 2017-18 season, Lewandowski's 101 career points is currently the sixth-best mark amongst all skaters in Division I.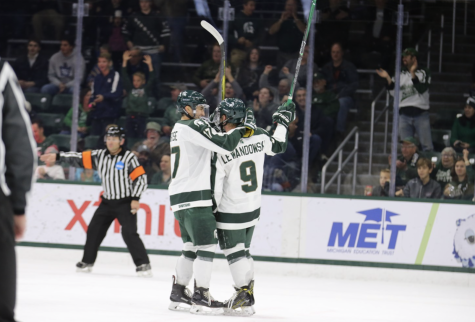 Cesana, a two-time All-Big Ten selection who has amassed 58 points in 99 career games, was second on the team in points with 12 last season; he also led the team with 10 assists. His 10 assists were tied for the seventh-best mark among all defensemen in the Big Ten; Cesana has been the top-scoring Spartan defenseman in each of his three years at MSU.
DeRidder, an All-Big Ten honorable mention selection in 2020-21, has made 45 starts over a three-year span, including 24 starts a season ago. He set career-highs in both GAA (2.76) and save percentage (.923) last season and was voted as the team MVP and Most Improved Player by his teammates.
DeRidder also led the conference in overall saves (723) and saves per game (30.12). Both his save percentage and GAA mark were the third-best mark in the conference amongst all goaltenders who appeared in at least 20 games.
The Spartans, who finished last in the Big Ten a year ago after going 7-18-2 overall and 5-16-1 in conference play, are set to kick off the 2021-22 season at home against Air Force on Oct. 8-9. MSU has not had a winning conference season since 2014 when it went 11-7-2-2 under former head coach Tom Anastos.