MSU outside hitter Sarah Franklin receives Co-Freshman of the Week Honors
EAST LANSING— Redshirt freshman outside hitter Sarah Franklin has been named as the Big Ten Co-Freshman of the Week after her strong performance against Oakland, IUPUI and Central Michigan over the weekend of Sept. 17.
Franklin, who is sharing this week's award with Wisconsin outside hitter Julia Orzol, averaged 4.2 kills per frame and hit. 320 while adding 2.10 digs and 0.6 blocks per frame over the three-game set.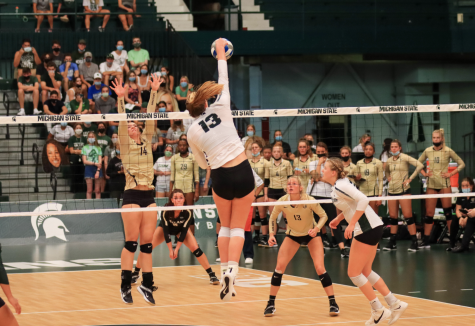 Against Central Michigan on Sept. 18, she registered a career-high 21 kills and added 10 digs for her second double-double of the season. Franklin also compiled 13 kills against Oakland in MSU's 3-0 victory over the Golden Grizzlies on Sept. 17, and her 21 kills against CMU is the fourth-best individual performance for any player in the Big Ten this season.
Overall, Franklin is the No. 10 overall player in the conference in kills per set (3.56); she is 12th in the Big Ten in points per frame (4.06). Furthermore, Franklin's 2.33 digs per game is tied for the second-best mark on the team.
She is coming off a freshman season that saw her appear in seven matches before an injury prematurely ended her season. In those seven matches (26 sets), Franklin had six double-digit kill efforts and two double-doubles to go along with four aces and 57 digs.
The Spartans, who are 7-2 on the season with wins over Western Michigan, Canisius, Dixie State, Weber State, Oakland, IUPUI and Central Michigan, are set to kick off Big Ten play at Indiana on Sept. 24 at 7 p.m. MSU will then travel to Michigan on Sept. 26, Iowa on Oct. 1 and Nebraska on Oct. 3 before heading home to host Ohio State on Oct. 8.