MSU goaltender Lauren Kozal receives Goalkeeper of the Week Honors
EAST LANSING— After shutting out Indiana en route to a 1-0 victory on Sept. 19, redshirt junior goaltender Lauren Kozal has been named as the Big Ten Goalkeeper of the Week.
Kozal, who has helped to anchor an MSU defense that hasn't allowed more than a single goal in every game this season, has compiled five shutouts on the season against Detroit Mercy, Eastern Michigan, Central Michigan, Oakland and Indiana. Her save percentage of 90% is the second-best mark in the Big Ten; she has collected 27 saves and only allowed three goals through the first eight games of the season.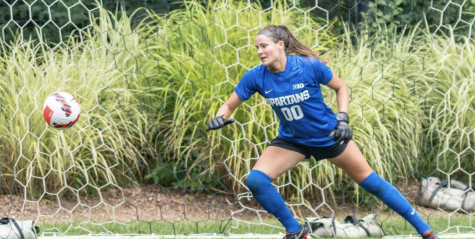 In addition, Kozal's five shutouts are the second-best mark in the conference, and her .335 goals against average statistic is the third-best in the Big Ten.
On the season, the Spartans are fifth in the NCAA in goals allowed, scoring 16 goals and only yielding three.
A Forest Hills Northern (Grand Rapids, Michigan) graduate, she was a three-time All-District selection, two-time All-Conference and All-Region selection and a one-time All-State honorable mention selection in addition to a three-year letterwinner in both soccer and basketball.
A three-year contributor for MSU, Kozal has started in 39 games over a three-year span and recorded 11 career shutouts. In 2020-21, she recorded 54 saves, started in all 12 games and compiled a 1.85 goals against average mark. Kozal also started in 19 games in 2019 and compiled five shutouts to go along with 79 overall saves and a 1.52 GAA.
MSU, who is currently 6-0-2 on the season, will look to maintain its undefeated record when it welcomes Wisconsin to DeMartin Stadium on Sept. 23.