Ostusz: The biggest takeaways from MSU's convincing win over Oakland on Friday evening
Owen Oszust, General Assignment Reporter
September 18, 2021
EAST LANSING— On Friday evening, Michigan State's volleyball team looked impressive against a solid Golden Grizzlies squad en route to a 3-0 sweep. The first set was a tight back and forth affair between the two teams, however, the second set was a blowout in favor of Michigan State. The Spartans were then able to get the clean sweep when they finished off the third set in dominating fashion.
1. The big sluggers of Sarah Franklin, Cecilee Max-Brown and Rebecka Poljan are an imposing presence at the front of the net
Coming into this match, Michigan State appeared to be a little rusty at first with not being able to get many kills, but then it was able to start feeding their big hitters with Franklin, Brown, and Poljan guarding the front of the net.
The combination of these three girls combined for 38 kills; Franklin and Poljan had 13 kills each. Max-Brown had some big kills to conclude the first set and throughout the entirety of the third set.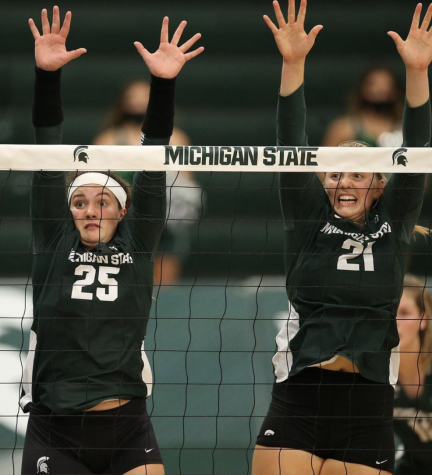 Poljan's hitting percentage was .632 and Max-Brown had a hitting percentage, both of which are exceptional marks.
If the Spartans want to continue to keep on winning matches as conference play looms, it's going to be catapulted through the strong play of Franklin, Max-Brown and Poljan.
2. MSU needs to start hot in sets
The Spartans clearly looked like they were knocking some rust off in their first set from not playing last weekend against UNC and Duke due to health and safety concerns. MSU started down 7-0 before finally getting their first point of the match. 
From there, the George's Jungle (MSU's raucous home crown) and a combination of mistakes made by Oakland ultimately led to Michigan State chipping away at that lead. They finally were able to complete the comeback and even up the match at 24 apiece. The only time they led was when they won the set 26-24. 
For the second set, the Spartans were able to jump out to a quick lead and rode with it for a convincing 25-13 second set win. When Michigan State was able to get that lead in the second net, they continued that string of strong play in the third set and swept the Grizzlies right out of Jenison Field.
3. The Spartans hitting percentage was exceptional
MSU  finished the match with a .371 hitting percentage, which is quite an impressive number. Like I talked about before, Max-Brown, Franklin, and Poljan all had splendid numbers when it came to hitting the ball in the perfect spot and mixing the speeds up of the serves and blocks at the same time.
Senior middle blocker Naya Gros also contributed 7 kills and had a hitting percentage of .600. When Gros got the opportunity for kills she rarely missed and was also a big part of the reason why MSU was able to win in a clean sweep. Furthermore, she is currently leading the nation in blocks, a pleasant sight to see for a rebuilding MSU bunch that has played competitive ball, and beaten, the likes of Weber State, Dixie State, Western Michigan Canisius and now Oakland.