First annual Frances 5K and Festival held at Hawk Island Park
LANSING – Hawk Island Park in Lansing, Michigan, is a place that holds significant meaning in the Kaneene family. In fact, the park will continue to be an important landmark in the family and also to everyone else who Frances Kaneene has impacted and will impact in the future.
Frances Kaneene was an academic advisor for the Michigan State University College of Agriculture and Natural Resources from 1990 to 2020. The effect that she had on students and coworkers prompted the university to open up a scholarship in her honor that will help students study abroad. Frances found out about the scholarship just a few days before she died in August of 2020.
"She worked at MSU for 30 years and her students were really her heart and soul," Tessa Kaneene, the daughter of Francis, said. "It's very full circle because she herself received a similar scholarship." 
Frances Kaneene was born in Uganda and received a scholarship to first study in Paris and then eventually the United States where she studied at The University of Wisconsin and graduated with a bachelor's and master's degree in business administration.
In order to help fund the scholarship and also bring together family and friends, Tessa organized a charity 5K and festival in her mother's honor at Hawk Island Park. The location is where Frances would meet with her running club and it is adjacent to the cemetery where she is buried. The route includes a stop at Frances' headstone where participants stopped to lay a flower down in remembrance. 
"We wanted to incorporate that almost like she was there along the way in spirit," Kaneene said.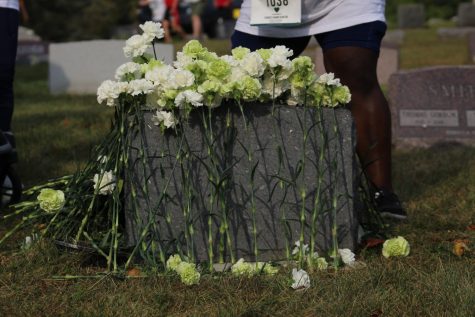 The first of what will be an annual event was held on Sept. 12., which happens to be Frances' birthday. Prior to the race, performances by the MSU drumline, MSU dance team, MSU cheer team, and Sparty greeted people as they arrived and started stretching. Just a few minutes after 9 a.m, the horn sounded and the runners took off, followed by a large group of walkers in the back.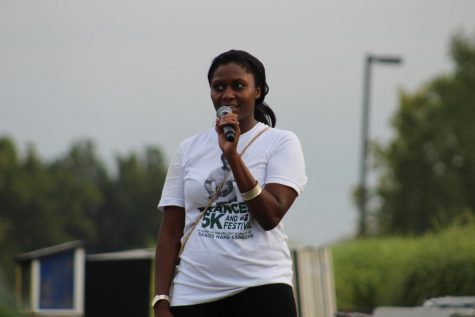 During the run and walk, volunteers were directing and cheering people on. Ruth Kline-Robach was a friend and co-worker of Frances Kaneene and volunteered at the event. 
"I am awed by the turnout," she said, "I think it is amazing and it is a great way to honor a dear friend."
As the last of the runners finished up, they were greeted with a collection of different performers on stage and some of Frances' favorite food trucks like Shove It Pizza and Picnic Farm-to-Table. 
Keyante Saxon, also known as KT the Conscious Poet, created his own poem in honor of Frances Kaneene to perform during the event. 
"To be out here and celebrate the life of someone else who served the community so well, that is all I could ever ask for," he said. 
"It was so touching for him (Saxon) to write those words and even incorporate her favorite quote," Kaneene said. "I thought it really came together beautifully."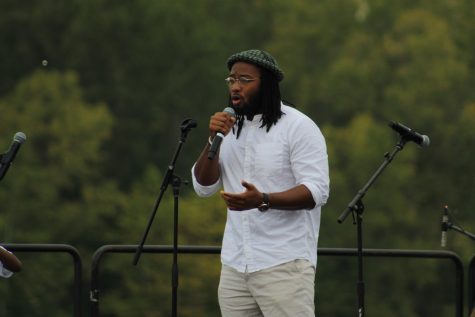 Multiple student groups from MSU were also invited to perform during the festival; Ladies First A Capella was invited to perform and they sang a few songs for the crowd. 
"We want to empower women, and from what I've learned about Frances, she is a really good role model for women," Kam Alcantra, the music director of the group, said. 
"It is an honor to be here and celebrate in a way that she would have enjoyed herself, " said Pam Jones, who serves as the treasurer for the student organization."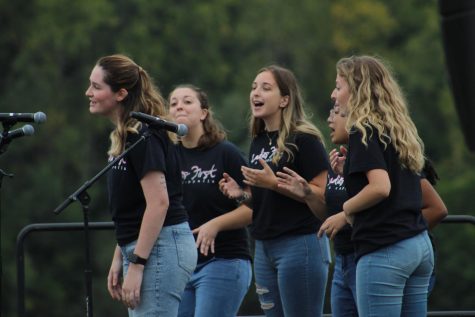 Another a capella group that performed was the MSU Acafellas. The music director for the group, Anthony Gaines, said that being able to share music with others has been a blessing after all that has gone on over the past year, and most other groups shared this same sentiment. 
In total, Tessa Kaneene said that the event raised over $30,000 for the Frances Kaneene Study Abroad Scholarship through people registering and also through donations. 
"We are so touched," Kaneene said. 
Kaneene said that her mother would love to run in events that had a meaning behind them, and when she finished that event she would save her bibs and write what it was that made the run so important. Now, there is an event in her name that will extend her legacy and be able to touch the hearts of all that participate in the future.