MSU freshman Ellie Rutherford receives Freshman of the Week Honors
EAST LANSING— When you start off 5-0 and outscore those five opponents by a 19-2 margin, chances are, some of your players will be up for various awards and accommodations.
On Monday, freshman midfielder Ellie Rutherford received Big Ten Freshman of the Week Honors after scoring four points (one goal and two assists) over Ball State on Sunday. She scored her second goal of the season in the 14th minute of Sunday's victory after receiving an on-the-mark pass from sophomore forward Hannah Jarvie.
With her scoring outburst on Sunday, Rutherford is tied for third on the team with six points; she is currently slotted behind junior midfielder Merel Hanssen, who has 10 points and four goals, and senior midfielder Cara Bonshak. Bonshak, who had two goals on Sunday (the first time she has ever scored more than one goal in a game), has three goals and eight total points.  Graduate transfer midfielder Maddie Babineau has also accumulated six points on the season alongside two goals.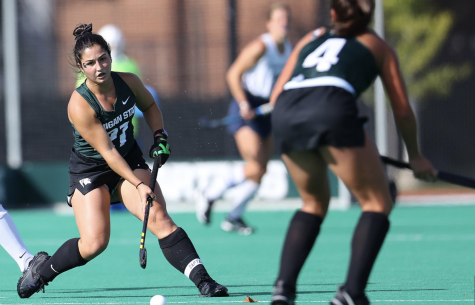 Rutherford, the first Spartan to receive Freshman of the Week honors since Isa Van Der Weij on Aug. 27, 2018, has been a key catalyst in MSU's best start since 2010.
In total, the Spartans, who have scored 19 goals, have already eclipsed their scoring total from a season ago in which they scored 15 goals in 16 games en route to a 2-14 conference record.
MSU is set to begin conference play against Ohio State this Friday at 3 p.m. The Spartans have not beaten the Buckeyes since September of 2017 and have only won one conference game in the past two seasons (1-15 overall record). Ohio State is coming into Friday's contest sporting a 5-1 record of its own; the Buckeyes only loss is against Kent State, a team that MSU beat 3-1 in its season opener on Aug. 27.