Three observations from MSU's dominant 42-14 win over Youngstown State
EAST LANSING – The Michigan State Spartans played their first home game in front of fans in over 650 days. 70,103 fans to be exact. The home crowd was treated to  a dominant 42-14 victory over the Youngstown State Penguins. Here are a few takeaways from MSU's Week 2 victory:
 1. Fans matter 
Spartan Stadium was full, and it was extremely loud Saturday afternoon. Fans were not sitting down for very long when quarterback Payton Thorne found Jayden Reed for a 75-yard touchdown on the first play from scrimmage, the second consecutive game in which an MSU player scored on the first play of scrimmage. Reed beat his defender over the top and scampered into the south endzone where he was greeted by a raucous student section. 
"It was one of the reasons I came here," Reed said, "for this environment."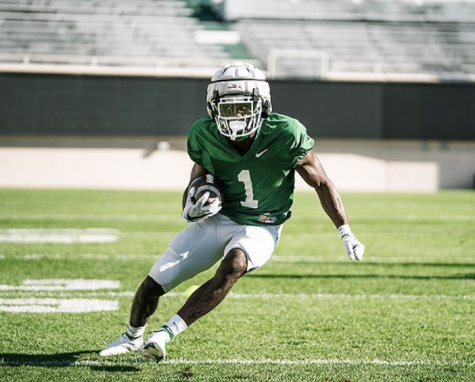 The marching band had not even fully settled into their seats yet after performing prior to the game. Chants of "Go Green, Go White!" could be heard on multiple occasions throughout the day; fans were also able to tailgate on campus and took full advantage. College football is not the same without home crowds and the Spartans fed off the energy of their 70,000-plus fans today. 
 2. Michigan State should thank Western Michigan 
Two of the biggest stars for MSU today were the previously mentioned Reed and Thorne. Reed played his freshman season at Western Michigan before transferring to Michigan State, and Thorne was originally committed to the Broncos. After the initial fireworks on the first play, Thorne found Reed deep again, only this time the touchdown went for 85 yards. Thorne played the entirety of the first half and started the second half before being taken out for Anthony Russo in the third quarter. 
He finished with a very impressive stat line that included a quarterback rating of 246.3; Thorne also threw for 280 yards and four touchdowns while throwing zero interceptions and was 15-for-21 through the air.  He added 19 yards rushing which included a 10-yard touchdown run after a designed option play.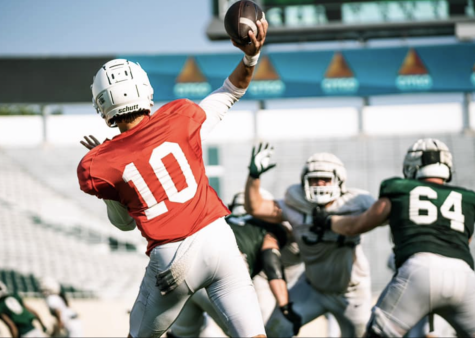 Reed was not only a factor receiving the ball; he helped set up the rest of the offense in the return game as well. As a punt returner, he had two returns for 48 yards and as a kick returner, he had one return for 32 yards. By the end of the game, he compiled 261 all-purpose yards. 
3. The Spartan running backs are legitimate
Everyone knew what Kenneth Walker was capable of after last week's dominant performance at Northwestern that included 250 rushing yards and four scores. On Saturday, he was not tasked with quite the same workload, but still managed to have a quality game. He showed flashes of brilliance again, including an impressive six-yard touchdown run while dragging multiple Penguin defenders across the goal line. Walker ended the day with only seven carries but amassed 57 yards, averaging just over eight a carry. 
The lead running back today was sophomore Jordan Simmons; he looked fast and decisive all game hitting the correct holes and making elusive cuts. He finished with an impressive 140 yards on 19 carries
"I know the playbook a little better, so I am able to play a little faster this season." Simmons said. 
Elijah Collins also received a number of carries and looked much improved from last year. He was the lead back for one drive in the second quarter where he led the offense down the field for a touchdown. All in all, Collins had three carries for 32 yards and one reception for 20 yards that went for a touchdown. It was the first receiving touchdown of his career. 
Unfortunately for Collins, he came up gimpy after his score and was on the sidelines wearing a walking boot and street clothes in the second half.