Previewing MSU's Saturday home showdown with Youngstown State
Liam Jackson, News Editor/ Football Beat Reporter
September 9, 2021
EAST LANSING— On Saturday, the Michigan State Spartans will return home to play in front of fans at Spartan Stadium for the first time since Nov. 30, 2019, when they square off against Youngstown State at noon. The Penguins, led by second-year head coach Doug Phillips, are coming off a 44-41 overtime win over Incarnate Word on Sept. 2.
"We've waited a long time for this," MSU head coach Mel Tucker said in anticipation of Saturday's game. "We are anticipating a packed Spartan Stadium with the band, the cheerleaders, the dance team, Sparty, the student section, the alumni, former players running out of the tunnel. That's the great thing about the Green and White and being a Spartan."
Michigan State is coming off an impressive 38-21 win over Big Ten foe Northwestern on Sept. 3. In 23 carries, transfer running back Kenneth Walker surpassed 250 (264 in total) rushing yards and rushed for four touchdowns. His exceptional performance earned him Maxwell National Player of the Week and Big Ten Offensive Player of the Week honors.
Walker's 264 rushing yards, the seventh-highest mark in school history, is the first Spartan running back to rush for 250-plus yards and four touchdowns since 1971 when Eric Allen ran for 350 yards and four scores against Purdue. He is also the first Big Ten running back to run for at least 250 yards and four touchdowns since former Wisconsin running back Melvin Gordon's offensive explosion in 2014.
In his second career start, redshirt sophomore quarterback Payton Thorne was an efficient 15-for-25 with 185 passing yards and a touchdown. Thorne's lone touchdown pass of the game came on a 14-yard screen to running back Jordon Simmons.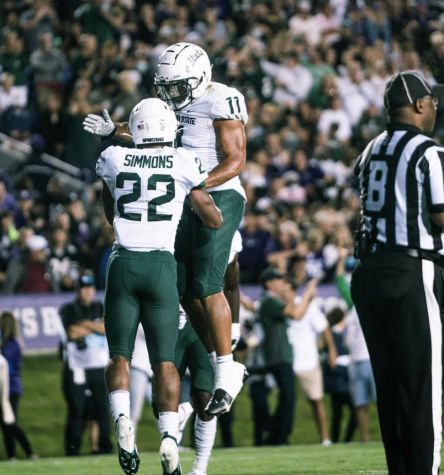 Youngstown State, meanwhile, will be trying to rebound from a rough 1-6 2020-21 spring season that ended in April. In addition, the Penguins, who are members of the FCS Missouri Valley Conference, are currently serving a two-year probation sentence for recruiting violations committed under former head coach, Bo Pelini.
Current head coach Doug Phillips is in his second year at the helm for the Penguins; he previously served as the running backs coach and special teams coordinator at Cincinnati.
In their 44-41 overtime win over Incarnate Word, freshman quarterback Demeatric Crenshaw ran the ball for 81 yards and two touchdowns on 20 carries while running back Jaleel McLaughlin stole the show with 242 rushing yards and two scores as well as two catches for 46 yards. For his efforts, he received Missouri Valley Conference Co-Offensive Player of the Week honors.
Kicker Colt McFadden made three field goals, including a 41-yarder, as time expired to force overtime. He was subsequently named as the Missouri Valley Conference Special Teams Player of the Week for his strong performance.
Despite playing an FCS opponent, Tucker is preparing for Saturday's game as an opportunity to prepare for a tough upcoming slate of games that includes a road showdown with Miami on Sept. 18.
"I'm expecting to see a good football team come in here on Saturday expecting to have success," he said. "I'm from Cleveland, I know Youngstown, I know YSU and what it's all about. It's about winning."
Tucker has more than a few ties to Youngstown State. He is from Ohio, but he also coached under the University's current president, Jim Tressel, at Ohio State from 2001-04 as a defensive backs coach and a co-defensive coordinator in 2004.
"He put so much into you as a coach, you don't want to let him down," Tucker said. Before winning a national championship at Ohio State in 2002, Tressel made his name at Youngstown State where he won four Division I-AA championships (now FCS) in 1991, 1993-94 and 1997.
The Spartans currently are 20.5 point favorites by most betting websites.