Spartans swept by Hawkeyes in final season series
EAST LANSING – In the final series of the season, the Michigan State Spartans (17-27) were swept at home by the Iowa Hawkeyes (26-18). The Spartans finished the season tied with Purdue for 11th place in the Big Ten conference. On the other hand, the Iowa Hawkeyes finished the season tied with Indiana for fourth place in the conference. 
Friday's game was a battle of aces, as Mason Erla toed the rubber in what could have been his last collegiate start. After going six innings and surrendering three earned runs, the Spartan bullpen allowed nine runs in the top of the eighth inning, eventually leading to a 12-1 deficit. 
Hawkeye ace Trenton Wallace, however, threw seven innings while only surrendering one earned run. The bullpen was able to throw two shutout innings to deliver Wallace his Big Ten-leading seventh win of the season. 
Saturday's game was a bit more competitive, but similar to Friday's game; the Hawkeyes scored the final six runs to defeat the Spartans 7-4. 
Spartan starting pitcher Jackson Bennett lasted four and one-third innings while giving up three earned runs. Two errors in the field caused two unearned runs to cross the plate after Bennett was taken out in the fifth inning.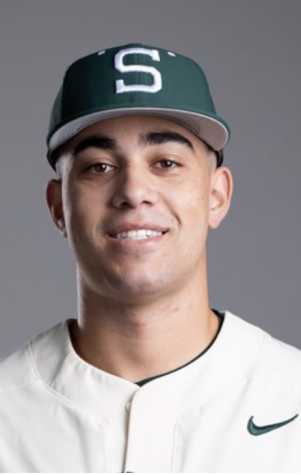 Although the Spartans outhit the Hawkeyes in the second game, no Spartan player finished with multiple hits in the game. Freshman shortstop Mitch Jebb led the Spartans with two runs batted in that came on a double in the third inning. 
On Senior day, the Spartans fell to the Hawkeyes 11-3, aided by yet another huge inning for the Hawkeyes as they scored nine runs in the top of the third inning. The Hawkeye outfield combined for six hits and six runs batted in throughout the game.
Spartan senior southpaw Jarret Olson got the honorary start for senior day, throwing one inning and giving up one earned run in his only inning of work on the season. Michigan State freshman infielder Mitch Jebb recorded his second multi-hit game of the series, going two for three with one run scored and one run batted in.
Overall, the Michigan State Spartans finished with a conference record of 17-27, an improvement from the last Big Ten season they played in 2019. Seven Spartan seniors will not be returning to the program, and a few others are likely to enter the transfer portal or enter the professional draft.