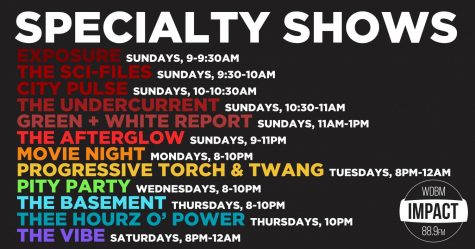 We pride ourselves on a familiar, yet progressive mix of music throughout the day. In the evenings, the Impact dives into other genres. Each night has at least one different format. Our specialty shows reflect the varied interests of our listeners in the Greater Lansing area. As tastes change, so do our shows. We review our shows once a year to evaluate their performance and sustainability.
Specialty Shows:
The Afterglow – Sunday, 10PM-12AM
Sink into the calmer side of night with The Afterglow, Impact's showcase of all things ambient, downtempo, and electronic. Buckle in and make sure you don't fall asleep at the wheel, because things are about to get dangerously relaxing. 10 PM to midnight every Sunday: there's no better way to ease into the week ahead. 
Host: Mike Merucci
The Basement – Thursday, 8-10 PM
You enter a house built in the 70s. The renter's definitely had to sign a lead paint disclosure agreement. You walk down the incredibly steep stairs and round the corner. BOOM it's Cam and Kyle in the DJ booth playing songs from all your favorite, and not-yet-favorite, Michigan artists. The closest substitute to those MI basement shows you know and love. Join us on Thursdays from 8 to 10 pm to hear Michigan artist centered cool facts, fun stories, artist interviews, and live performances.
Hosts: Cameron Crawford + Kyle Davidson
THE FUZZ  – Wednesday, 10PM-12AM
THE FUZZ is the premier show to get your fill of shoegaze, dreampop, and noise! Playing Wednesdays 10pm to midnight.
Host: Ethan Bernier
Thee Hourz O' Power  – Thursday, 10 PM-2 AM
Thee Hourz O' Power is the longest running specialty show at Impact 89FM. For more than 30 years Hourz has been playing the classics of metal and other extreme music. Your host, DJ Brick, is taking the show into the 21st century, playing contemporary hardcore hits both big and small from bands like Gulch, Vein.fm, and Trapped Under Ice. Tune in on Thursdays from 10pm-2am for four hours of all killer and no filler.
Host: Nicholas Sanchez
Pity Party – Wednesday, 8-10PM
Pity Party is your place for all things emo, punk and everything in-between such as Great Grandpa, Sonic Youth, Camp Cope, and more! 
Host: Emily Schnettler
Terminally Online – Sunday, 8-10 PM
Terminally Online is a wire into the most digital-sounding pop music. It shares new music from groups like PC Music and Drain Gang, as well as some of the sounds crucial to online electronic music like UK Bass and Vaporwave. Relevant artists include Charli XCX, SOPHIE, and A.G. Cook.
Host: Luke Adams
Green + White Report – Sunday, 11-1PM
The Green + White report is a weekly talk show hosted and produced by Impact's Sports Team. Each week they discuss updates, outcomes, and opinions covering all MSU sports!  
Hosts: Brendan Schabath, Zac Slowik, and Matt Merrifield
Exposure – Sunday, 8:30-9AM
Impact Exposure gives a voice to student groups and at Michigan State University and organizations in the East Lansing area. Tune in weekly to hear interviews and segments showcasing local work on Sundays from 8:30 to 9 am! 
Hosts: Tessa Kresch + Megan Samp
The Sci-Files – Sunday, 9:30-10 AM
The Sci-Files is an award-winning half hour show that delves into graduate student research at Michigan State University. Each week, the hosts interview a new student researcher on their research and their history with the topic. The Sci-Files airs on Sundays from 9:30-10am.
Hosts: Daniel Puentes + Chelsie Boodoo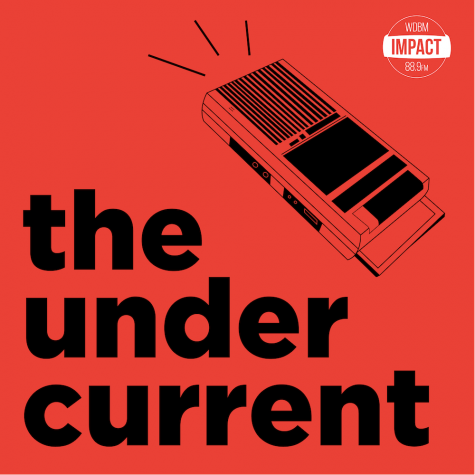 The Undercurrent – Sunday, 10:30-11 AM Bi-weekly
The Undercurrent is a long-form storytelling-style program that is often centered around human interests and specific themes, but has been consistently adapted to meet the needs and interests of Impact's News Department. 
Host: Claire Barcarella
Click below for more information on one of our current shows: