Michigan State bounces back from heartbreaking loss on Sunday to split series with No. 22 Michigan
EAST LANSING — Michigan State led 7-0 in the bottom of the ninth inning on Sunday against Michigan, but it could not finish with a win after giving up eight ninth-inning runs, including a two-run, walk-off home run to Wolverine catcher Jimmy Obertop. On Monday, the Spartans were able to bounce back with a 3-0 victory on Monday to earn the series split with their in-state rivals.
With the win, the Spartans improved to 6-6 on the season, while No. 22 Michigan fell to 9-3.
MSU has been led by its starting pitching over the last few games. Redshirt junior Mason Erla pitched seven shutout innings in the Spartans' victory over Illinois on Saturday, and freshman Nick Powers matched him in Monday's win over Michigan. Powers picked up his first career win to move to 1-1 on the season after giving up no runs on just four hits with three strikeouts over seven innings. 
The Spartans got a boost from designated hitter Bailey Peterson, who only had one hit, but it was a solo home run in the eighth inning to extend Michigan State's lead to three.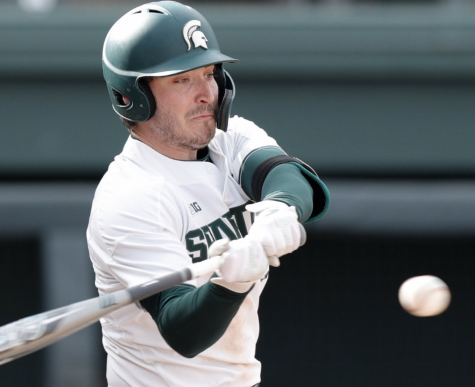 MSU did a strong job of manufacturing runs in the win as its first two runs came via a sacrifice fly by first baseman Joe Stewart and an RBI groundout from infielder/pitcher Zach Iverson in the third inning.
Iverson picked up the save for MSU, his third of the season, and was able to escape a jam. The Wolverines were looking to repeat its late-game heroics from Sunday; they started the inning with a leadoff double from Sunday's hero Jimmy Obertop, but Iverson induced a double play to end the game. 
The win for MSU was the first shutout victory for the Spartans over Michigan since April 19, 2002, and snapped a 10-game losing streak against the Wolverines. 
Freshman infielder Trent Farquhar has been a big addition to MSU's lineup over the past few games. Farquhar is a strong defensive infielder and made a few outstanding plays in the win. The Bowling Green transfer is also hitting .360 with two doubles and six walks so far this season. 
MSU has been led at the plate this season by senior captain Bryce Kelley, who was 0-for-2 in this game but drew two walks and scored a run. Kelley is hitting .419 (on the year and is closing in on MSU's career stolen base record. He sits at 77 stolen bases in his career, two behind the all-time record. 
Michigan State returns to East Lansing next weekend against Indiana for their first home series since May 2019 after the 2020 season was halted in March due to COVID-19.