The Good, The Bad, and The Ugly of Michigan State Basketball's COVID pause
EAST LANSING — It's been 15 days since the Michigan State men's basketball team last took the floor in an official game. That was a frustrating, excruciating, mind-bending 55-54 loss at home to Purdue in which the Spartans had a dismal offensive performance in the second half and just an overall bad night. 
Since that loss on Jan. 5, MSU has lost in other ways, too, as the team experienced a COVID-19 outbreak that started with Steven Izzo and Mady Sissoko testing positive on Jan. 12. 
The result of the outbreak has been three straight game postponements for MSU; Jan. 14 at Iowa, Jan. 17 vs. Indiana and Jan. 23 vs. Illinois. Obviously, nobody wants to endure a team-wide COVID outbreak, but MSU can benefit from a couple of weeks off. So, here's the good, the bad and the ugly of MSU's COVID pause. 
The Good
As mentioned before, no coach, player or fan wants their team to go through what MSU and hundreds of other college programs are going through right now. However, this outbreak does help out MSU a little bit. For starters, the Spartans get some relief in what was going to be arguably their toughest stretch of the season. 
Traveling to Iowa, then hosting Indiana (who just beat Iowa on the road) and Illinois, only to start a road trip to Rutgers and Ohio State a few days later seemed like a very tall task. With the pause, MSU will likely have to break these games up and the Spartans won't have to face five tough teams in a row after a bad loss at home to Purdue.
The outbreak also comes at a "convenient" time for MSU as far as on-the-floor performance goes. Prior to the postponements, the Spartans were not in a good place. Team chemistry and communication were lacking, big-name players weren't playing to their potential and the defense was struggling in a fashion that a Tom Izzo-coached squad has never done before.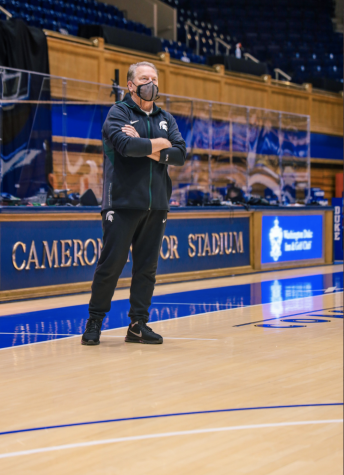 Now, the Spartans get a chance to take a couple of weeks to re-evaluate their game plan moving forward. The coaching staff has a lot more free time to review game film and see what works and what doesn't. Players get a chance to breathe after a hectic start to an unusual season. There's no guarantee (or even likelihood) that the Spartans come out of this outbreak looking like an entirely different team, but there's certainly a chance that it helps them in the long run. 
The Bad
The Spartans haven't played particularly well all season long. In fact, one could argue that their best game this season was all the way back on Nov. 28 when they beat Notre Dame at home handily. Even in that game, though, Izzo looked on as his starters and a flurry of bench players let a 28-point second-half lead slip into only a 10-point victory. 
This is not to say the Spartans haven't played well, they just haven't played to their full potential yet, and a two-week break from basketball is not a recipe to fix that. 
We've seen this trend before with past MSU teams and other programs; many teams go through slumps at different points in the season. Eventually, you play your way out of it or roll over and let the season be a flop. Although MSU hasn't played particularly well in games past, two weeks of no "real" competition and game-speed experience can be severely detrimental to a team. It limits the ability of younger players to develop and learn the system, it halts any progress some veteran players may have been making towards finding a groove and it can throw coaches off-kilter and lead to bad decisions. 
None of these MSU players have ever taken such a sudden and depressing break from basketball right in the middle of the season like this. This COVID pause can very well make or break MSU's season depending on how adept the team is at handling such adversity. 
The Ugly
In one word: scheduling. My goodness, this is going to be brutal for MSU basketball's front office. Rescheduling the three postponed games might be the toughest task MSU's program has this season. 
The Spartans are expected to resume play on Jan. 28 at Rutgers. From there, MSU has 10 scheduled games left in the season, but here's the tricky part: those 10 scheduled games are to take place over the course of 34 days, which leaves usually just two or three days of rest in-between games for MSU. In fact, the largest gap between games for MSU comes after a  Feb. 20 road trip to Indiana. The Spartans have a four-day break after that game until Feb. 25 where they are slated to take on Ohio State at home. It's likely and even probable that the three missed games can't or won't be rescheduled.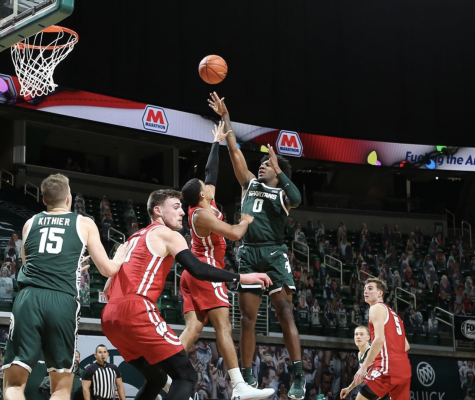 The game MSU will likely prioritize in rescheduling first is the home game against Illinois. Yes, the Spartans miss out on the Iowa and Indiana games, but if all goes well, they are already scheduled to play both the Hawkeyes and the Hoosiers later this season. 
COVID-19 stinks, and it has tormented the sports world for the past 10 months, but that doesn't mean a little break from basketball is all bad. This "vacation" for MSU can either spark new life into the team and cause a resounding comeback to the MSU basketball fans know and love, or it can be the catalyst to a downturn in an already disappointing season. Frankly, it will be whatever the Spartans want it to be.