Spartans drop first game of new year 1-0 to Penn State
EAST LANSING – Michigan State and Penn State dropped the puck on the second portion of the Big Ten hockey season on Sunday afternoon. Both teams came into the series as the two lowest teams in the Big Ten standings, but the Nittany Lions started 2021 with a 1-0 shutout victory in game one. 
The first period was filled with energy, as both teams came out with much intensity, trying to do too much. This led to a turnover-riddled period, and one particular turnover really cost the Spartans. 
Late in the first period, Spartan freshman Powell Conner was back in his defensive zone and attempted to pass to his defensive partner. The puck slipped off his stick and wobbled right in front of Michigan State goaltender Drew DeRidder for Penn State senior Sam Sternschein to score his first goal of the year and give his squad a 1-0 lead that it would not give back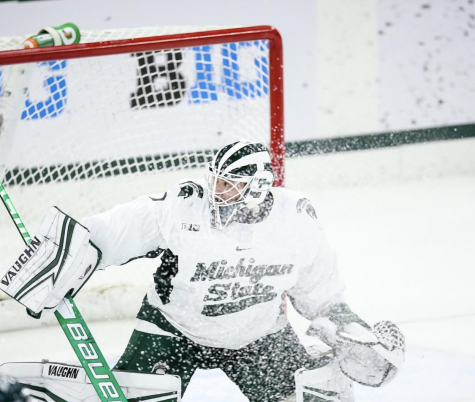 "It's unfortunate in a game like that," MSU coach Danton Cole said of the turnover. "It was a weird play, it wasn't the wrong play…those happen in games like this but it's too bad it had to be the game-winner."
During the second period, both teams settled down and focused more on the defensive side of the puck and getting traffic in front—a complete 180-degree turn from the first period. This caused there to be much less offense generated, and outside of one Michigan State power play that yielded nothing, there was not much action at all. 
"I think we were getting our opportunities," Spartan forward Charlie Combs said. "We just weren't capitalizing on our opportunities and it's frustrating, but the boys are always positive and we try to keep our heads right and get ready for that next shift because you never know what's going to happen."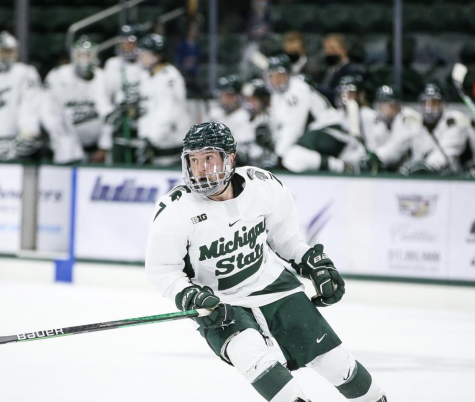 Going into the final period, the Spartans were put in a spot they're familiar with this season. Four of the Spartans' eight games this season have been decided by one goal or less coming into the series. 
The Nittany Lions were in a spot they weren't used to. They had a one-goal lead heading into the final period for just the second time this season—the first came during their 3-2 overtime win against Arizona State in early December. Penn State did allow Arizona State to come back and tie it in the third period before winning the game.
This time was different; there was no goal allowed and Penn State got Oskar Autio his first shutout of the season. This is the first time this season that Michigan State was held off the scoreboard, and the Spartans only generated 10 shots in the last 40 minutes of play after recording 13 shots in the first period.
"We were trying to find something too good," Cole said. "Instead of being ready, shot, and get it down there, we waited and ended up getting a shot blocked, then we have to back-check and start all over."
Penn State (4-5) extends its winning streak to four games after starting the season 0-5. Michigan State (3-4-1) drops its first game of 2021. The Nittany Lions will look to complete the series sweep Monday at 3 p.m. in East Lansing.
Kyle Hatty is a hockey beat reporter for WDBM Sports. Follow him on Twitter at @KyleHattyIN.