The Frigid Warmth of Jazz | "Christmas Time is Here" by the Vince Guaraldi Trio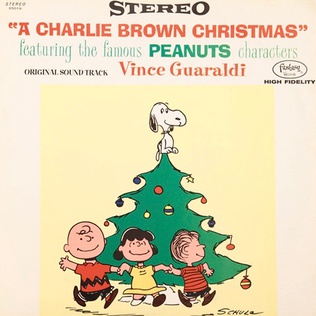 In the cultural zeitgeist surrounding Christmas, there is often a collection of music that stands as omnipresent. Though sometime after Halloween, there is often a great exhale of frustration surrounding Mariah Carey and others for their oversaturation before the new year. Because of this status, the "Christmas Classics"  can often be equally loved and loathed. 
Although A Charlie Brown Christmas isn't quite as colloquially imprinted on us as the Coca-Cola portrayal of Santa Claus, it is something I would argue almost every child has seen at least once. The drooping Christmas tree is somewhat of a symbol in and of itself, but I would say that—even to children—the solidifying memory of this classic ISN'T the characters or scenes, but rather the music.
The Vince Guraldi Trio's composition of the soundtrack for the TV special is something I doubt any of them would have expected to be revered as not only a Christmas classic, but also a jazz standard. The album's centerpiece is the track "Christmas Time is Here," which I believe distills the greatness of the record into one track.
The track starts off with the grainy tumble of the snare slowly rolling forward. The piano keys are delicately paced to the tempo of the snare, acting as a ground for the flight of voices above them. The breathless gospel of children seems to suspend itself in the air, as if the kids are packed upon a stoop, serenading the world through an open door. 
The Guaraldi Trio seem to harness an energy that is beyond our understanding, and construct a track that is frigid in its isolation and warm in its instrumentation. The feathered flowering of the piano keys through the children's chorus seem to elevate the structure and allow for the flourishing of Guaraldi's piano skills, while still showcasing the choral vocals above all. 
This act of minimalism allows the tone created to be impressively constructed on the hairpin legs of 4 instruments. Each instrumental section carries its own emotional weight, and beautifully highlights the dynamism between The Vince Guaraldi Trio. The mental fragmentation of the track reveals the necessity of each instrument: The light piano, the leisurely bass and the bolero snare all act as equally important pedestals holding up the vocal passages, creating a recording of sheer beauty with 4 instrumentals that a composer with 30 couldn't dare to replicate.
The brevity of the track is as quick as the holiday season comes and goes, but always seems to remain in the hearts of others for much longer. In "Christmas time is Here", the track is the coming together of different pieces to assemble a greater whole. This peaceful unison exemplifies that, for the holidays, coming together is all we need to construct a feeling as timeless as the song.