Meet the first signees of Michigan State's 2021 class
Zach Surdenik, Women's Basketball/Baseball Beat Reporter
December 16, 2020
EAST LANSING — Mel Tucker has been a big proponent of recruiting since coming to East Lansing in February and has had a reputation as a top recruiter for a long time. He now gets to welcome in his first recruiting class for the Spartans. 
The early signing period opened up Wednesday and will continue through Friday for 2021 recruits. Here's a breakdown of some of the notable players who have signed already and what they could bring to MSU in the future: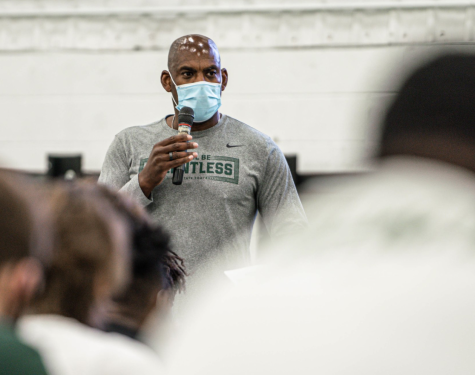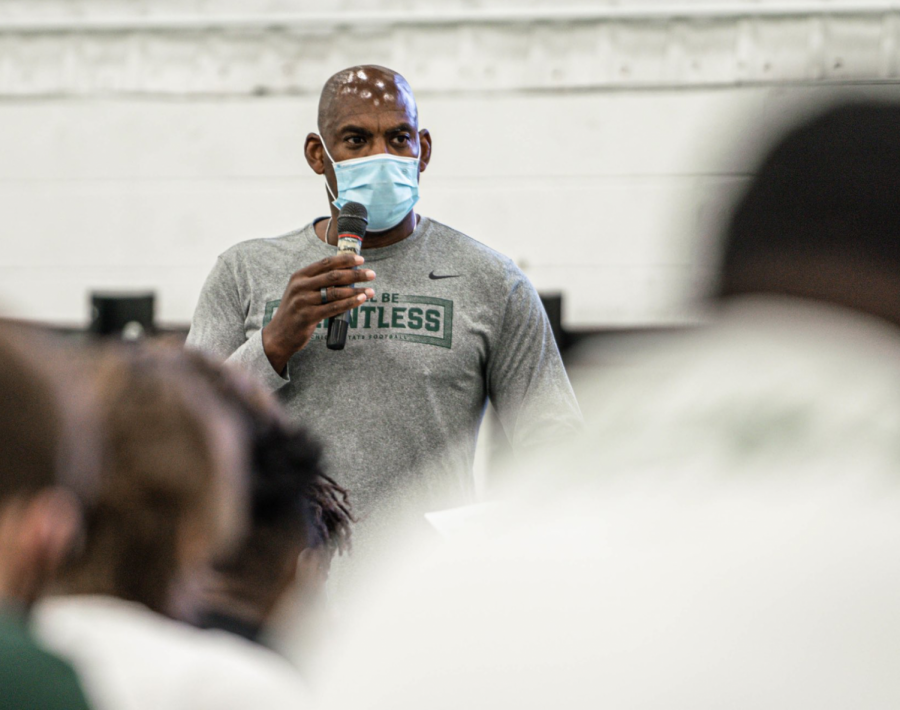 Ma'a Gaoteote, LB, Las Vegas, Nevada – Gaoteote was by far the biggest surprise of the day after flipping his commitment from USC to MSU and signing with the Spartans. He also might be the player that could make the biggest impact. He is the highest-rated recruit according to 247sports.com, where he is ranked as the 155th-best player in the country and the 11th-best linebacker. His brother is also a former five-star linebacker who is in the transfer portal and could potentially be a target for Tucker this offseason.
Davion Primm, RB, Oak Park, Michigan – Primm was the first player to sign his letter of intent for the 2021 class, which is fitting as he was also the first commit for the class. The three-star recruit had offers from mostly MAC schools along with Michigan State, Iowa, and Colorado, but he has strong vision and burst that could help him succeed with MSU.
Kevin Wigenton II, OL, Colts Neck, New Jersey – Mel Tucker has gone all over the country with this recruiting class and went deep into New Jersey to find Wigenton. The three-star had offers from other power-five schools such as Tennessee, Indiana, and Pittsburgh, but chose to come join the Spartans. He has also proven to be an effective recruiter himself, trying to bring more talent to East Lansing alongside him. 
Chuck Brantley, CB, Sarasota, Florida – Brantley is the second corner from Venice High School to sign into MSU's 2021 class, joining fellow three-star corner Steffan Johnson. Brantley has a smaller frame, standing at 6 feet tall and weighing only 160 pounds, but he has a knack for making big plays and could help to soften the blow with Shakur Brown heading to the NFL and the rest of MSU's secondary getting closer to graduating. 
Hampton Fay, QB, Fort Worth, Texas – The Spartans have signed their potential signal-caller of the future in Fay. A big, strong quarterback with a rocket arm, Fay can make all of the throws needed to have success at this level. His recruiting rating was potentially hampered by the fact that he missed most of his junior year due to injury, but the three-star put together a very strong senior year and is excited to join MSU's class. 
Ethan Boyd, OL, East Lansing, Michigan – Boyd is another big lineman that will fit in well with the offensive line of the future that could be bolstered by a lot of young, talented linemen in coach Chris Kapilovic's system. Boyd was teammates with Michigan signee Andrel Anthony and is a local guy that could be a big part of MSU's future up front. 
A.J. Kirk, S, Columbus, Ohio – Kirk, the younger brother of former NFL star Mike Doss, surprised everyone when he committed to Michigan State on Oct. 13. Kirk held offers from Ohio State, Notre Dame, Florida, Michigan and Penn State, among others. Kirk has good size as a safety, he is 6 feet and 200 pounds. After a decorated career at Archbishop Hoban High School (Akron, Ohio), Kirk could become an immediate contributor in the secondary alongside Michael Dowell and Xavier Henderson.
There are many others in the class that have signed already including safety Michael Gravely Jr., defensive linemen Derrick Harmon and Alex Okelo, offensive lineman and JUCO transfer Brandon Baldwin, linebacker Carson Casteel, defensive end Tyson Watson, tight end Kameron Allen and cornerbacks Antoine Booth II and Steffan Johnson. 
The biggest names for the Spartans who have yet to sign are four-star recruits Audric Estime and Rayshaun Benny. Estime, the running back from New Jersey, recently reported an offer from Notre Dame and reportedly will not sign on Wednesday. Benny, a defensive lineman from Oak Park, has said that he will not be signing until the next signing period in February. 
Tucker has talked at length about recruiting and finding the right guys, even mentioning the staff's use of a "fit score" to determine what guys they should go after. That emphasis will definitely be something to keep an eye on over the next few years.