Schabath: Even after Loyer's scoring outburst, he still needs to prove that he can be the point guard of the future
EAST LANSING — Foster Loyer (finally) had the breakout performance that fans have so desperately clamored for on Wednesday night as he scored 20 points on six made 3-pointers against the Eastern Michigan Eagles. 
Loyer started the game at point guard for Tom Izzo, a surprise to many people as Rocket Watts was expected to earn the starting job prior to the season. 
He quickly proved that Izzo's decision was the correct one. In the first half, Loyer went 5-for-7 from behind the three-point line and tacked on two free throws for a career-high 17 points. In the first half. 
In the second half, Loyer picked up right where he left off, knocking down his sixth and final three-pointer of the night just two and a half minutes into the half. With the Spartans up 50-32 after Loyer's sixth three-pointer, he was quiet the rest of the night as other teammates got involved with the scoring. 
Loyer finally did it. He proved himself as the knockdown shooter that he has been categorized as for years. He showed drastic improvements on the defensive side of the floor. He made smart passes and plays and did it all while committing only one turnover.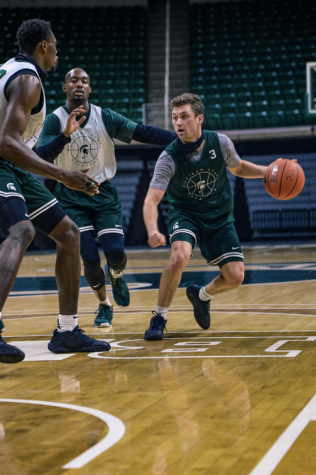 There was a reason why Loyer was rated as a high four-star recruit out of Clarkston. His ability to handle the ball and shoot from anywhere on the court was a significant reason why Tom Izzo made Loyer a recruiting priority in 2018. 
These are all great things to see from Loyer, especially after almost nine months of uncertainty, but does this performance mean Loyer is ready to take over for Cassius Winston as MSU's "point guard of the future"? 
The biggest bright spot of Loyer's career performance on Wednesday night was undoubtedly his defensive play. He didn't tally any defensive box score stats, but he was tremendous in on-ball situations and definitely proved that he could hold his own despite being one of the smaller players on the floor. 
Loyer's offensive performance, however, is a little more ambiguous. Yes, 20 points is 20 points, and every coach in America would take a player who can consistently shoot 60% from deep, but Loyer's dominant scoring came against a rather incapable opponent. While EMU is a solid team that will likely finish at the top of the MAC this season, only eight of their 14 players were active for the game against MSU, and only seven of those eight were scholarship players. 
Not only did EMU lack a full roster, but their defensive strategy is a rather outdated and unusual one in college basketball these days. EMU tends to rotate a zone defense, sometimes forming into a 2-3 zone while other times stretching out into a 1-3-1. This zone, along with MSU's crisp and quick passing, left Loyer open a lot from the outside, and everyone knows what happens when you leave a shooter like Loyer open. 
The zone defense from EMU also did not allow MSU to run its usual pick-and-roll offense which was so pivotal to its success last year. The pick-and-roll is bound to be different this year with Loyer and Joey Hauser as Loyer is not as dynamic a scorer as Cassius Winston, but Hauser can not only pick-and-roll but also pick-and-pop to stretch the floor for a three.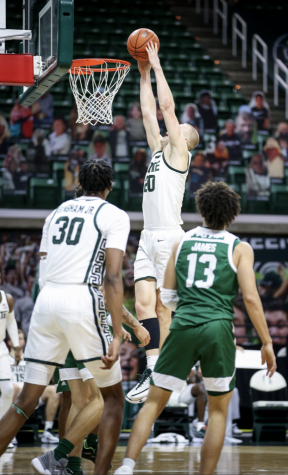 It would've been pleasant for Izzo and his staff to see the pick-and-roll in action against a real opponent and see how it worked with two new faces running it, but that will have to wait until later.
Loyer torched the Eagles from outside their zone, as did other MSU shooters as well. Josh Langford knocked down two three-pointers, and Gabe Brown tallied all of his 12 points from behind the three-point line. 
Loyer's shooting day was not in a vacuum of significant individual performance, but instead a credit to his ability to find an open spot along the arc and a credit to his teammates for getting him the ball.
Now, this is no reason to discredit Loyer's game or say that his special night was a fluke. This performance was not an end all be all. 
However, one thing that can be said is Loyer still has yet to prove himself. He only had two assists on Wednesday night and scored 18 of his 20 points from three-point range. That is a mark that will be extremely difficult for him to maintain over the course of the season. 
The true test to see if Loyer has improved over the last two years will be the next two games against Notre Dame and Duke. If Loyer can find shots for himself against a man defense, drive and kick it to his teammates for open 3-pointers, and run a threatening pick-and-roll with Joey Hauser, Michigan State will be poised to finish atop the Big Ten yet again. 
Here's to hoping Loyer's performance last night is a sign of things to come and not the top of the pyramid for this season.