Winston selected No. 53, headed to Wizards
EAST LANSING — Draft night: a night on which so many young lives change forever. All of the draftees, their teams and families have put forth so much effort to get to where they are and Wednesday night was the payoff night; the chocolate fudge on top of the sundae. There might not have been any draftees more deserving to hear their name called than Michigan State's own Cassius Winston. 
For someone who has seen and heard his name everywhere he's gone since freshman year of high school, draft night was a change of pace for Winston. He had to hear 52 other names called before his; 52 players that NBA general managers thought were better than him. "I've been in this situation before, been doubted before," Winston said. "I've been told things that I can't do and what things will hold me back, but look what I made of it before."
Winston was selected with the No. 53 overall pick in the draft by the Oklahoma City Thunder and was promptly traded to the Washington Wizards. Winston is definitely not the prototypical NBA prospect. He's never been the fastest, tallest or most athletic but everywhere he's gone he's always been one of the best and smartest players on the floor. Physical characteristics aside, Winston has maneuvered around his shortcomings and has proven himself as a winner at every level of basketball he's competed in. 
The learning curve from college basketball to the NBA level is a difficult transition for many prospects, but Winston will be fortunate enough to have veteran superstars to learn from. Barring any trades, Winston will be taken under the wings of John Wall and Bradley Beal in Washington, D.C. Watching and learning from two of the most explosive and athletic guards in the league, combining to make one of the most prolific backcourts in the NBA is an opportunity Winston won't take for granted. 
"I'm super excited," Winston said. "They're both very talented, both very successful guys in the NBA. Both of them are dogs, they play hard and they're trying to win. So I'm excited to go there and learn as much as I can." 
Winston will have to carve out minutes for himself in this Wizards lineup, but he's never struggled with "wow-ing" people anywhere he's gone and making a name for himself. "I trust myself and my ability to work, you know, I'll put my money on me," Winston said. "I got an opportunity and that's all I wanted, all I asked for." The player that fans lovingly call "Cash Money" is putting his money on himself. Fitting.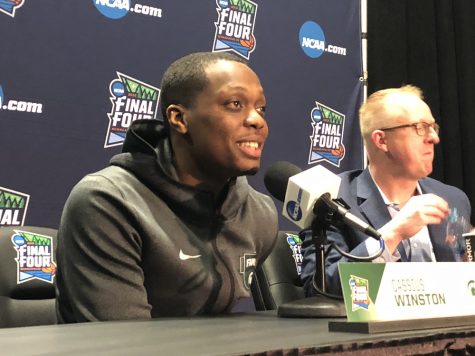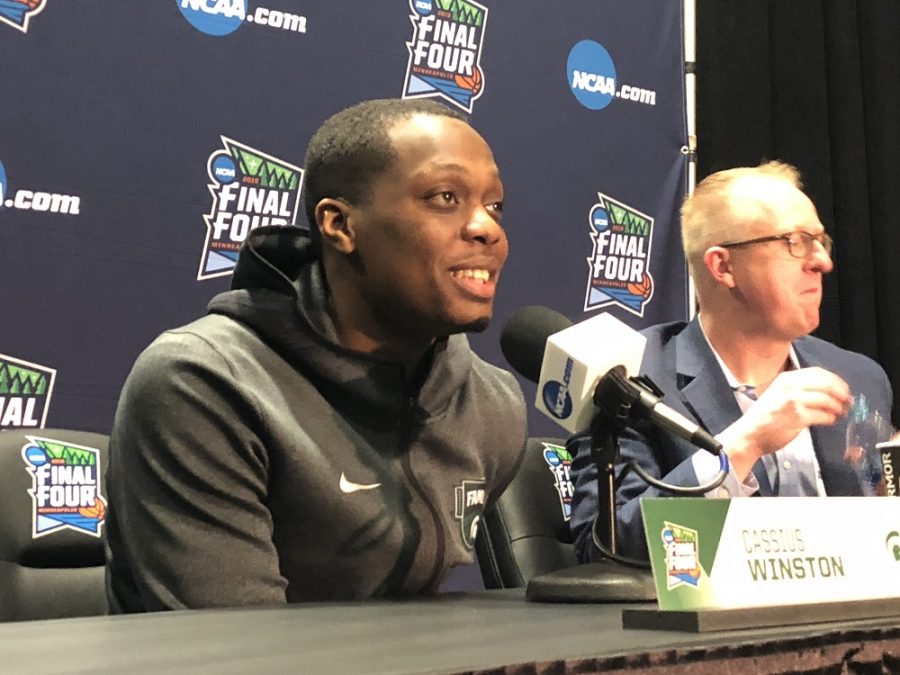 Winston and his family have been through a lot in the last eight years. From growing up in Detroit and winning a state championship at UD Jesuit, to falling short in the Final Four two seasons ago, to the death of his younger brother Zachary Winston. Through it all, Cassius has lived in the spotlight and hardly had any moments to himself. Finally, when his name was called, Winston was able to breathe a sigh of relief. 
"Emotions were all over the place," Winston said. "I was worried, excited, a little bummed out. (I thought) I could've gotten picked earlier, but when I got picked that all went out the window. When you hear your name it's such a relief, you can take a deep breath and realize you made it." 
Enjoy this one, Cash, you've earned it. D.C. is going to love you just as much as Spartan Nation did and you'll continue to make everybody so proud.
Brendan Schabath is a men's basketball beat reporter for WDBM Sports. Follow him on Twitter at @Bschabath3.