Michigan State begins practice for upcoming season
EAST LANSING – The past seven months have featured an uproar of confusion, uncertainty and sadness for many players, coaches and fans at all levels of the sporting world. Missing out on the most fantastic time of the year and the madness that comes with it was also quite taxing on many college basketball enthusiasts. The excitement and pandemonium associated with the NCAA Tournament fizzled out when the COVID-19 outbreak struck the U.S. and caused the sports world to grind to a screeching halt.
However, today, as the first day of official practice for college basketball programs around the country kicks off, the misery that has made its home over the past several months is finally receding.
Michigan State head coach, Tom Izzo, was ecstatic to start practice today in his early afternoon media availability session with media members. In jubilation, Izzo exclaimed, "I love this day, I really look forward to it." 
With the season just 42 days away, teams don't have a lot of time to prepare for their opening games and figure out answers to multi-faceted problems. There's a lot of questions that surround this Michigan State team from a basketball standpoint, but there are also plenty of questions about COVID testing, protocols, scheduling, non-conference play and pretty much everything else. 
From the basketball perspective, Michigan State has a lot to figure out and not much time to do it. How will Rocket Watts perform at point guard? What role will Josh Langford have (if any)? Where do players like Malik Hall, Gabe Brown and Marcus Bingham find minutes within this roster? Who is going to be the main guy at the center spot?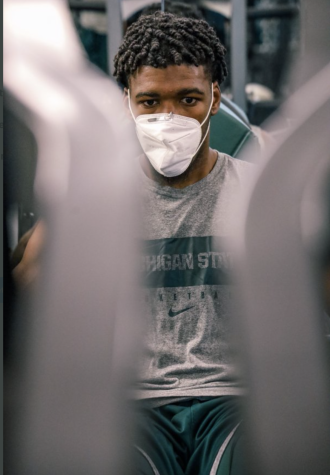 Nobody wants a clearer and faster answer to these questions than Izzo, but finding those answers takes time and practice, which is what today was all about. 
This is going to be a season of crossing bridges upon arrival for Michigan State. "It's going to be a trial-and-error deal," said Izzo.  "I mean, as we go, we're gonna have to adjust." 
The Big Ten has always been a tough conference to win on the road and without fans, the dynamic of traveling is certainly altered quite a bit. Izzo says he loves having fans, even on the road, and he's going to do everything he can to make an exciting atmosphere for his team. 
"I think my team's physically and mentally strong enough to play on the road whenever there are packed houses," said Izzo."  "It's going to be different, we're going to have to bring our own energy." 
After the NBA and NHL concluded their seasons with an astounding ZERO positive COVID-19 tests combined while in the bubble-like environment, Izzo is looking to mimic the atmosphere and precautions those two leagues were able to make. 
"We're gonna do some things in the arena to spruce it up a little bit," said Izzo. "We'll definitely have some crowd noise and music and what we're allowed to do… all we can do is learn from the NBA or the NHL,  but there's no question we're gonna have to manufacture some of that excitement ourselves." 
No one knows what events might unfold over the course of the season, but the return of basketball represented something that sports fans haven't had in quite some time.  Normalcy.