How a strong support network helped Connor Heyward get back on the right path
EAST LANSING — Calling Michigan State running back Connor Heyward's sophomore season "chaotic" is a gross understatement.
Heyward, the Spartans' leading rusher in 2018 with 529 rushing yards and five touchdowns, struggled to establish any kind of rhythm on the ground from the onset of the 2019 season. Despite getting the start in the season opener against Tulsa, Heyward gradually lost playing time with the emergence of Elijah Collins and Anthony Williams.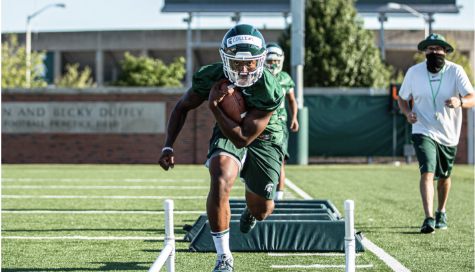 By the end of September, Heyward was at his breaking point. He decided to enter the transfer portal, only to rescind his earlier announcement in February. However, with the new hire of Mel Tucker as head coach, Heyward's lengthy slate was wiped clean.
"I am just thankful for the new coaching staff to give me an opportunity," said Heyward. "Me and Mr. Beekman (MSU Athletic Director) had a nice conversation… Ultimately, my heart was still here and I felt like I had some unfinished business. Since I've been back, everyone has welcomed me with open arms… I kind of just didn't expect them to help me with open arms."
It isn't lost on Heyward that his sophomore season was a rough one. After going through a rough patch mentally, one specific family trip opened Heyward's eyes and made him reevaluate his priorities
"I gained a good amount of weight and I went to the Pro Bowl, actually, and met my family there," said Heyward. "They just looked at me like 'What are you doing, are you just going out every night?' I had to look at myself in the mirror and I was like 'There are no excuses.' I was just eating bad and staying up late. I didn't really have that discipline and somebody to be in my ear. It was just a tough time last year."
Heyward sought to make a commitment to transform himself physically over the offseason. According to Heyward, his weight really ballooned during his absence from the team and after gaining a significant amount of weight, he was able to work his weight back down to 227 pounds, the lightest he has been since his sophomore year of high school.
Last season, things went downhill for Heyward toward the latter part of September. Right before the Spartans' homecoming contest against Indiana on Sept. 28, Heyward made the difficult decision not to dress; this decision was extremely hard on the Spartan halfback.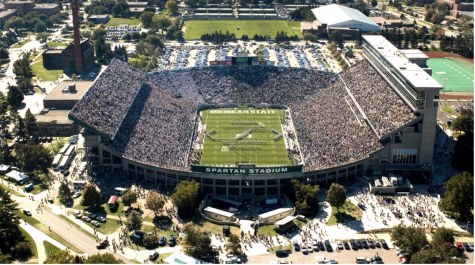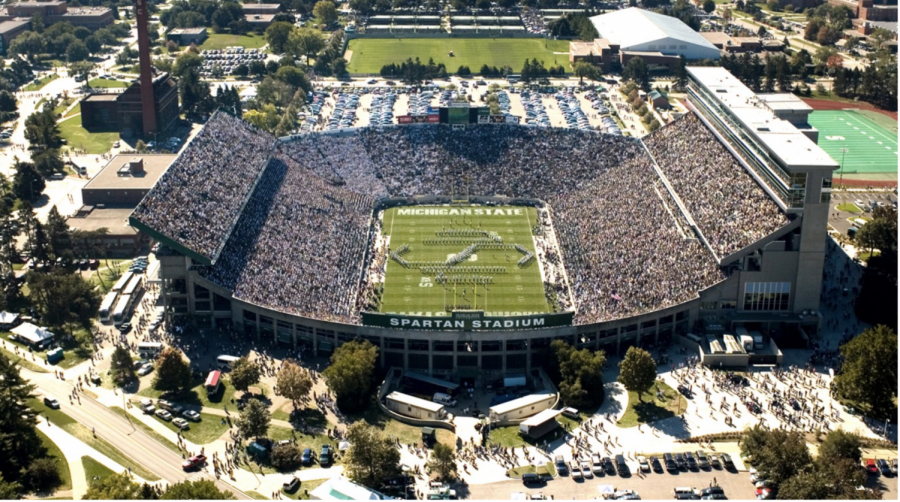 "All of my friends were flying up, they were going to come to the game… it was super hard for me," said Heyward. Two days later, he decided to enter the transfer portal.
After some heart-to-heart conversations with his mother and other family members, Heyward decided to put his future decision on hold and use the time to reconsider his options. He eventually came to the realization that MSU was where he wanted to be all long. Heyward credited his mother specifically for helping him during his difficult time.
"Me getting into the portal, she was like 'Are you sure you want to do this?'" said Heyward. "We had a talk and she flew up here… she knew I was kind of going through it mentally."
Despite missing the game and his teammates, Heyward is thankful for the time he took to reexamine his priorities and work on his mental well-being. 
"It was kind of good to get away," said Heyward. "Mentally, I don't think that I was in the right state of mind to be here. Me not being my normal self, I'm very talkative and I just felt like I shut down for a little bit when all that happened. My family and friends, they just helped a lot."
With all of the turmoil from last season behind him, Heyward is ready for a fresh start in 2020. He mentioned that he felt like a regular college fan after leaving the team and watching MSU games with his friends. According to Heyward, Tucker's program-building approach has involved a "meat and potatoes" approach with "no flair."
Under the watchful eye of running backs coach William Peagler and run game coordinator Chris Kapilovic, the Spartans will feature a three-headed monster at running back. Few would have thought that Heyward, who is expected to be a large part of the offense going forward, would be suiting up for the Spartans yet again in a few short weeks.