MSU football: regular season MVP's and who to watch in 2020
As Michigan State football wraps up its regular season, it awaits Selection Sunday on Dec. 8 to see if its roster will be headed to what many believe is New York City for the Pinstripe Bowl, or Detroit, to play in the Quick Lane Bowl. 
In addition to wrapping up the regular season, the team experienced positives and negatives on every side of the ball as many teams do. 
Whether it be the 19-16, "program win" as Dantonio put it – over Maryland. Or the 37-34 collapse against Illinois. In the end, there are positives. Here are the defensive and offensive MVPs, along with most improved and the player to watch going into next year.
Most Valuable: offense
The offense of Michigan State struggled for much of the year and it's hard to find one player between the group of four: Brian Lewerke, Cody White, Darrell Stewart and Elijah Collins.
Stewart was a star through the first eight games of the regular season.
Despite the injury Stewart suffered against Penn State that sidelined him for the final three games, he was a star at the receiver position, like many senior wideouts at MSU were before him., Tony Lippett and Aaron Burbridge come to mind in recent memory.
Despite missing the last three games of the year and likely MSU's bowl game, Stewart averaged a team-high 86.7 receiving yards a game. His ability to step up in his final year was impressive as he made big catches all season. 
White, who has shown that next season he should be one of the best at catching the ball in the Big Ten. White should not be overlooked, but it is simply what Stewart provided with his timeliness on third down and 185 yards receiving against Western Michigan – his first of three 100+ receiving yard games in eight starts.
He also was a factor in the return game and had a 17-yard pass against WMU. Had he played the final three games of the season, he more than likely would have led MSU in all major receiving categories. 
Most Valuable: defense
The MSU defense was stacked this season with talent. There were many reasons for the unit's struggles down the stretch, but one player stuck out among the group as the best on the team.
Junior linebacker Antjuan Simmons, who led the Spartans with 81 total tackles, was a stud against the run and in pass coverage all year.
In 12 games this season, the Ann Arbor native had 42 solo tackles. He also led MSU with 15 tackles-for-loss, had 3.5 sacks, an interception, a fumble recovery and three pass breakups.
MSU's head coach Mark Dantonio on the departure of Urban Meyer from Ohio State and what it means for the Big Ten. #B1GMediaDays pic.twitter.com/WnCPXNCmwF

— Joseph Dandron (@JosephDandronMI) July 18, 2019
He still has one year of eligibility, too. He was one of four Spartans to have multiple games with two TFLs and a sack.
Simmons will be a good player and could play at the next level as well. He will be tasked with playing an even larger role as leadership heads for graduation with seniors Joe Bachie, Kenny Willekes and Raequan Williams. 
The junior was All-Big Ten Honorable Mention too, announced this week.
Player to watch in 2020
Many players showed blitzes of potential throughout the year – especially among the freshmen. Collins with his near 1,000-yard rushing season, and White neared the same feat as a receiver.
But the player with potential to make a big jump in year two is Julian Barnett.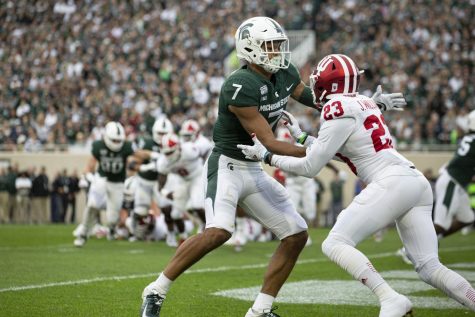 The sense whenever the freshmen and five-star recruit out of Belleville touched the football that he can make something happen is hard to go unnoticed. His numbers may not have reflected that, but he has the ability to play on both sides going forward. 
At 6-foot-2-inches and nearing 200 pounds, the athletic wide receiver and defensive back has shades of Justin Layne, who now plays for the Pittsburgh Steelers.
It will be interesting to see how Barnett is utilized going into 2020. Especially with the secondary and offense both being aspects of weakness for MSU, Barnett could help solve some of those issues, if Dantonio chooses to play him both ways.
The freshman was the No. 5-ranked 'athlete' by ESPN coming out of high school. And when you have athletes of Barnett's caliber, you get them the football to help compete with the likes of Ohio State and Michigan. 
Barnett and fellow receivers Tre Mosley and WMU transfer Jayden Reed could give whoever is under center for MSU – and going-to-be senior White a huge boost on offense.
Barnett could make the biggest jump of any player on the roster in 2020. But for now, fans will have to wait and see.
MSU awaits bowl game selection
The Spartans now await their selection for a bowl game. The selection committee will make their picks this Sunday. 
MSU is projected by ESPN to either play in the New Era Pinstripe Bowl vs. Virginia Tech on Dec. 27 at Yankee Stadium in New York City or against Boston College in the Quick Lane Bowl at the Detroit Lions' Ford Field on Dec. 26.
Joe Dandron is a columnist and football beat writer for Impact89FM. You can follow him on Twitter @JosephDandronMI and contact him at [email protected]