Three takeaways from Michigan State's win over Georgia
With 16 minutes to go in the second half and the Michigan State Spartans up 28 on the Georgia Bulldogs, it appeared the Spartans were on the path to getting a much needed bounce-back win after their poor performance the previous night against Virginia Tech. Anthony Edwards had other plans. 
Edwards, who had just 4 points in the first half, would lead an incredible rally for his team in the second half. He dropped 28 points in 13 minutes and brought the Bulldogs to within four, with just 3:15 to go. 
The Spartans, led by the cool, calm and collected senior, Cassius Winston, would eventually pull away in the last three minutes, winning by a final score of 93-85. After a very "interesting" weekend, to say the least, let's take a look at the three main things we can take away from Tom Izzo's squad after beating Georgia. 
Michigan State is really young
Obviously losing Josh Langford hindered the Spartans' ability to score the ball, but perhaps it crippled something far more important… their age. Any great basketball team is going to be led by its veterans, especially any Tom Izzo squad. Rocket Watts and Malik Hall continue to make mental freshman mistakes, Marcus Bingham doesn't know just how good he is yet, and Foster Loyer and Thomas Kithier need to grow up and realize they are playing college basketball.
Michigan State needs a reliable veteran, other than Cassius Winston, who can calm the team in adversity and knows their role. Josh Langford was that guy for Izzo and his team. With his absence, Xavier Tillman needs to step up and play his role as a big man and a leader for the younger guys.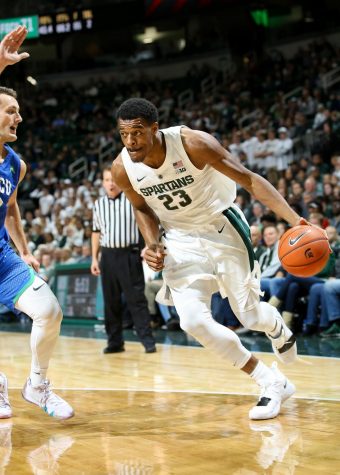 If Michigan State continues to play "kingmaker," it will have a very short March
What do Tyrese Maxey, Myles Powell, Landers Nolley and Anthony Edwards all have in common? Each of them had their best game of the season thus far against the Spartans. All of them, except for Myles Powell, are young, athletic and strong players who can stretch the floor (basically what every college coach is recruiting these days). Whether it's MSU's lack of experience, size, or confidence if they keep getting torched by every opponent's best player in their big games, it will be a long Big Ten season, and a short March.
If there was a mad scientist whose lab was solely dedicated to churning out the ideal basketball player, it would look awfully similar to Anthony Edwards. Young, fast, tall, strong, smart, a silky shooting stroke AND a mamba mentality? Look out, NCAA. Yes, Edwards is a terrific young player, but Michigan State held him to only four points in the first half, so what changed at halftime? Michigan State got too comfortable with its lead, and Anthony Edward took advantage. 
Cassius Winston is the foundation of Michigan State's success
This one is rather obvious, but people don't appreciate just how important it is that Winston plays well, in order for the rest of the team to play well, too. When Winston is on the floor, there is always a calm sense amongst the team. No matter what goes wrong, Winston will always be there. Except when he's not, who is left to step up and fill his role as a calming leader? 
The games against Kentucky, Seton Hall, and Georgia all felt eerily similar in the second half. A barrage of 3-pointers  from a kid who couldn't miss and was just gunning for the Spartans to lose. Winston, after losing to Kentucky to start the season despite a strong performance, wouldn't let that happen again against Seton Hall and Georgia. He scored 21 and 28 points in both of those games respectively, with clutch buckets in both of them. 
It is very clear that Michigan State is dangerously reliant on Winston. No one would blame him for going through a slump right now; with everything he's going through, it's understandable for him not to be up to par. With that being said, he's been outstanding for the Spartans of late. When the best player in the country is playing well, understandably, so does the rest of Michigan State. However, if the Spartans can grow into a team in which everyone makes each other better… they will be unstoppable.
Contact Brendan Schabath at [email protected]. Follow him on Twitter at @Bschabath3.