Love and Devastation | "Chewing Cotton Wool" – The Japanese House
In her debut album Good at Falling earlier this year, Amber Bain of The Japanese House proved that she is a master of emotive music. From the heartbreaking "Lilo" to the swingingly sarcastic "You Seemed so Happy," her songs utilize whole toolbox of sounds, leaving nothing to the imagination.
"Chewing Cotton Wool" is the second song to be released from her EP Something Has to Change, coming in 2020. With a more stripped-down soundscape, the song feels like the calm after the storm. Good at Falling was a no-punches-pulled breakup album (Bain's ex and fellow musician Marika Hackman literally starred in the cinematic "Lilo" music video), and now we are left with this emptiness that is "Chewing Cotton Wool."
The simplistic instrumentation of "Chewing Cotton Wool" chooses every note carefully, creating an arpeggiated melody weighed with intent. The lyrics overtop have an aching poetic feel, using literary devices such as simile, metaphor, and personification to describe her past lover. 
"She's the sound of your own voice /
She's someone else's drink /
She's like living in the countryside /
She's the whirlpool in the sink."
Every line starts with "she," emphasizing just how inescapable this heartbreak is. 
The imagery is so beautiful yet haunting, filled with love and devastation. Bain has an undeniably honesty that hurts to listen to, but lets us know it's okay to hurt.
Featured image by Nate Ryan/MPR; retrieved from The Current.
About the Writer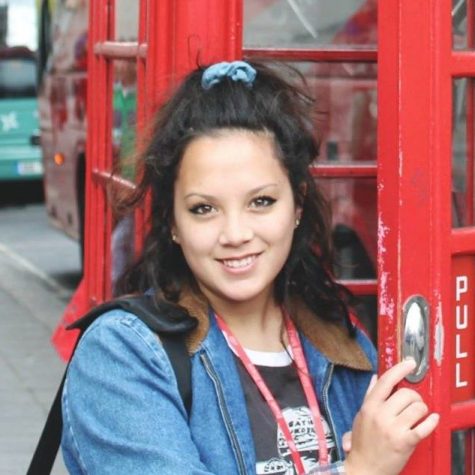 Sarah Beltran
Sarah is a senior majoring in Music Education at MSU. She works as Entertainment Editor for the Impact's Entertainment Team, writing and editing music and art content for the website. In her spare time, she likes to sit and stare at trees and think about how many little bugs have made a life for themselves there.