Straight outta Algonac: Morgan Beadlescomb has arrived
Redshirt Junior Beadlescomb has won his first two races of the season and is starting to make some noise in the Big Ten.
EAST LANSING — When you grow up in a small town like Algonac, Michigan, cross country and track & field are sports that you may take up on your own – training, practices and even races, sometimes you might be the only kid from your school out in front.
For Michigan State cross country runner Morgan Beadlescomb, that was true. He was the only member of the Algonac High School team to compete at the division two MHSAA State Finals in 2014 and 2015.
The best part? He won the race both years. 
Now we look ahead, it's 2019 and it's been four years since Beadlescomb moved on from Algonac to come to MSU, a campus that houses more than 50,000 students.
Beadlescomb graduated high school with 120 kids.
Algonac is a town of about 4,000. 
It was scary at first, but Beadlescomb adjusted quickly.
"The size of the campus was a really big shock," said Beadlescomb. "But it didn't take long to assimilate because I had 30 friends, 30 people that I knew to kind of show me the ropes and show me around. So that kind of helped a lot coming from a small town."
Now at MSU four years later, Beadlescomb has become one of the many distance runners silently chipping away at the block.
Without the flashing lights and attention that come with NCAA football or basketball, runners are athletes that work seemingly in private. 
The pounding of footsteps replacing the clicks of camera shutters with every step they take.
"It's weird, because I came in used to everybody knowing not only your name but like what was going on in your life," said Beadlescomb. "And now I come in and like nobody has any idea who I am, what I do."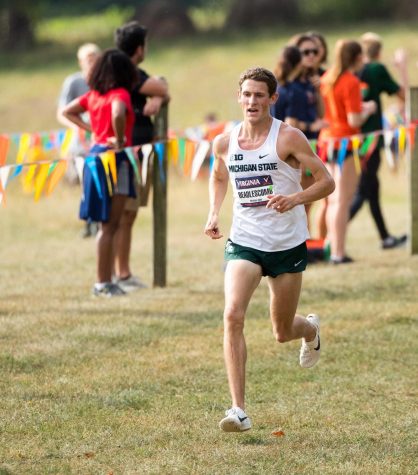 With how this season has started for the redshirt junior, you may want to begin taking notice.
He was tabbed as the Big Ten Cross Country runner of the Week on Oct. 1, the first Spartan to win the award since 2014, when Caleb Rhynard won it on Sept. 30, 2014.
"The most attention that we as runners get is during the Olympic years," said Beadlescomb.
Beadlescomb has two wins to his name early on, and has already ran a personal best in the 8k: 23:58.7, an average of four minutes and 50 seconds per mile.
Beadlescomb got his first win of the year on the home course, at the Auto-Owners Spartan Invitational, only to follow it up two weeks later with a win at the Panorama Farms Invitational.
"I'm feeling pretty good, I feel really strong, I feel like training's going well," said Beadlescomb. "For me individually, and the team … we got a lot of really good momentum going on right now."
After redshirting last fall during cross country, Beadlescomb said being able to work on his craft is a big reason why he was able to be an All-Big Ten runner in the 5,000 meter run last track reason and why he has found success early on this year.
"I was still training regularly, running with the team. I even raced a couple of times," said Beadlescomb. "I learned a lot through training, what I could do, what would happen if I pushed too far."
Now Beadlescomb is seeing the product of that work, he said he has started doing strides more during his runs.
"I worked on adding strides into my run, it's a little thing, but helped with footspeed," said Beadlescomb. "I feel more confident in my speed at the end of race now that I've done that … I've always focused on eating enough, getting a lot of food in. I mean when you are running 80 miles a week … you don't really have to diet it's just about how much you eat."
Now, he has his eyes set on not just being one of the best runners of the week, but one of the best in the Big Ten. Period.
"I hope to be atop of the Big Ten, I hope to be one of the top runners there," said Beadlescomb.
More than individuals
This cross country team though, is more than just Beadlescomb. 
Unlike his years at Algonac, where he was one of the best runners in the area he comes from, let alone the top division two cross country runner in the state, the team at Michigan State is full of dogs.
Several in-state runners accompany Beadlescomb – Fraser Wilson from Kent City, Zachary Wright-Fisher from Mason County and Matthew Thomas from Port Huron.
The team finished second at the Panorama Farms race down in Charlottesville, Virginia. Only behind the No. 22-ranked Virginia Cavaliers.
"I'd like to make nationals as a team," said Beadlescomb. "Every year that I've traveled we have made nationals as a team. I really enjoy that."
The Spartans will head to Madison, Wisconsin for the Nuttycombe Invite on Oct. 18 against some of the top teams in the nation, the Badgers are the No. 19 team in the nation.
Contact Joe Dandron at [email protected]. Follow him on Twitter at @JosephDandronMI. 
Leave a Comment
About the Contributor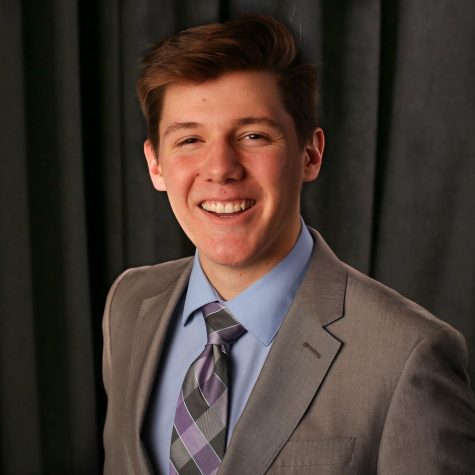 Joe Dandron, Station Manager
Joe is a junior journalism student from Montague, Michigan. Joe serves as the Station Manager for Impact 89FM after spending his sophomore and junior year as Sports Director. Joe covers primarily MSU football, cross country and track and field but fills in covering men's and women's basketball. Joe also broadcasts these sports and has a degree focus in writing, editing, and reporting.  Joe currently works at the Lansing State Journal as a news assistant covering prep sports in the Lansing area and...