Fall camp update: Spartan offense continues to improve
Offensive line, quarterbacks both improving as Spartans near home opener against Tulsa
EAST LANSING — Michigan State opened up a portion of practice to the media Monday morning, but the coaches and players are still being tight-lipped about many of the details of camp.
The Spartans held their first scrimmage of fall camp on Friday afternoon in Spartan Stadium, and according to head coach Mark Dantonio, the offense won that scrimmage 38-37 using a modified scoring system.
"Very pleased with our first scrimmage," Dantonio said. "It was about 140 plays, and we got a good look at lot of people. I think we're in a pretty good place right now, we have all our base stuff in so we're just building from there."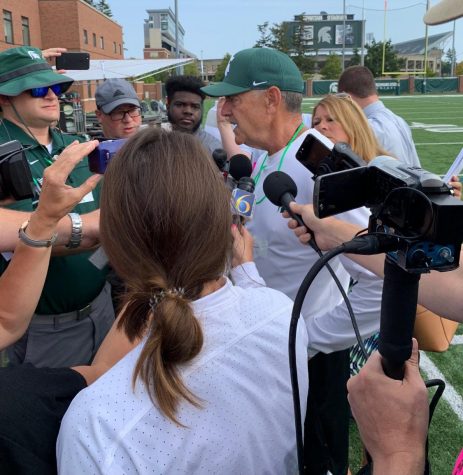 Dantonio said the scrimmage was won by the offense on the last play when they scored a touchdown on 4th and goal from the 17-yard line. Brian Lewerke said that the final play was a touchdown pass from Theo Day to Darrell Stewart.
The head coach also said he was pleased with the overall quarterback play in the scrimmage.
"Brian Lewerke was sharp," Dantonio said. "Rocky (Lombardi) and Theo (Day) looked good too. Made some throws and made some plays down the field."
Offense continues to improve with the help of young players
Dantonio was very high on the performance of many young players in the scrimmage, but specifically mentioned two freshmen offensive linemen — Devonte Dobbs and Nick Samac — as being ahead of the rest of the group. Last season, MSU's lack of depth on the offensive line greatly hindered the offense when a couple of starters went down with injuries.
Dobbs, the highest rated recruit in the Spartans' 2019 class, said he is very happy with his decision to wear the green and white.
"What was advertised is exactly what I'm getting," Dobbs said. "The culture that was here is what really brought me into it, it's like a family. It's exactly like what they told me it was gonna be. I love it here, I wouldn't want to be anywhere else."
MSU's defensive line running through some drills. This unit is expected to be one of the best in the country. pic.twitter.com/nDGNOxrTS5

— Eric Bach (@ebach21) August 12, 2019
Lewerke has also noticed the development of the younger players, and is pleased with his own camp so far.
"I think my camp has been pretty solid so far," he said. "My arm feels good, I feel like I can sling the ball around, and I try to challenge those DBs that we line up across from every day with the best look I can. I try to make that impossible throw that they can't defend and get the ball to my guys.
"I think just overall if we do what we're doing, even with the new system we're starting to be able to excel in what we're doing. There's always the learning curve, but once you have it down pat you can kinda throw in your own wrinkles and personality and that's what we're doing right now."
Big Ten Network in town
Every year, BTN travels to all 14 Big Ten campuses to report on each team's fall camp, and Monday they were in East Lansing to observe Michigan State. 
All of Monday's programming on the network is dedicated to Michigan State, with today's practice report first airing at 6 p.m. eastern time and replaying several times throughout the next week.
Twitter: @ebach21
Email: [email protected]