We Watch It For The Music | Patriot
Hey, internet. It's me, George, from WDBM. Listen up.
This is one of the most important articles I've ever written; not just because it's grounded in love and admiration, but because I think today's We Watch It For The Music entry is one of the most underrated gems in our society. And, in my eyes, that's a national travesty that needs to be corrected.
I love Amazon Studios' Patriot. And if you haven't treated yourself to watching it, now is the time. You're missing out on one of the best shows – and soundtracks – on TV.
---
Some time in late June, I was hanging out with a friend and watching a movie on Amazon Prime. An advertisement came on. I perked up briefly. Then I screamed.
I saw a sad man in a gray suit, fatigued and overworked, walking through the streets of Luxembourg with another man in his duffel bag. I saw his brother, a genuine but goofy U.S. Congressman in a colorful tracksuit, gushing about the Beastie Boys to his son. I saw their friend from work, a man who spends his free time working out, standing at the urinal or avoiding his twin daughters due to his phobia of twins. I saw a strange cast of characters – comprised of Milwaukee piping engineers, U.S. government agents, concerned spouses and a miserable folk singer – free a boy with an accordion from an "accordion pimp". I saw a pair of men on a train in France fret about their recently shot-off fingers.
I knew this show. And I adored this show. I quickly turned to my friend, asking if he'd ever seen it. He said no. Déjà vu; I've had the same conversation with so many people, and I'm always saddened to hear that few people have watched it.
Though critically acclaimed, Patriot – developed by Steven Conrad – has become the modern-day cult classic for Amazon Studios and, frankly, I understand why. I have an incredibly hard time describing the show to my friends; Conrad himself has stated an efficient elevator pitch would take the entirety of the Empire State Building. Moreover, I can't do justice to Patriot based on what its pieces remind me of; it is completely unique.
Season 1 Trailer
The synopsis follows John Tavner (Michael Dorman), an American intelligence officer who wants nothing more than to spend time with his wife (Kathleen Munroe) and write songs, as he attempts to deliver a package from point A to B (Milwaukee to Luxembourg) in order to buy the 2012 election in Iran. At the request of his government bigwig father Tom (Lost's Terry O'Quinn), John must prevent an influential Iranian candidate from obtaining nuclear armament. In order to maintain a non-official-cover alibi, he must pass off as a mid-level employee at an industrial piping firm – and actually pretend to know what he's doing to keep his boss (That 70's Show's Kurtwood Smith) from firing him. John consistently faces new problems and setbacks that make his mission all the more perilous, especially once an ambitious Luxembourg homicide detective (Aliette Opheim) begins to track him.
Did I lose you? Probably, but stay with me. 
The quirky concept alone is just a taste of what makes Patriot compelling. John is consistently at his breaking point, but keeps on going. Despite Tom's insistence on the mission's simplicity ("Just get it from point A to point B"), or any of the engineering jargon about systemic dynamics of flow, the first season's premise concludes that this concept is a fallacy in the realm of humanity: nothing and no one is straightforward. Season two expands upon this idea with its jellyfish metaphor: solve one problem and two more will rise in its place. 
Nevertheless, Patriot is a testament of one's enduring ability to withstand hardships and keep moving forward – thanks to his friends and family. Even when too much is asked, John keeps on giving – which awards him the titular honor.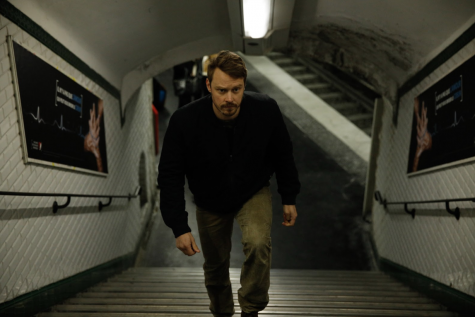 Michael Dorman as John Tavner.
It's strange, funny, dark and occasionally tragic, and Patriot stands as beautiful television. You can tell a lot of people gave their all telling this story, and it certainly makes for an entertaining and contemplative watch.
I could write for hours about what I love about Patriot. But since this is a college radio station website, I probably should focus on one of its strongest aspects: the music. The show has an excellent score composed by Alex Wurman (Talladega Nights, March of the Penguins), but the soundtrack is where Patriot excels. It features a mix of classics and amazing originals performed by lead actor Dorman. If you're a fan of Impact 89FM's Progressive Torch & Twang, you'll feel right at home with some moody bluegrass and folk numbers. Without further ado, here are some of my favorite tracks from its two seasons.
SPOILERS AHEAD: These songs are very meta and often dive into the specific details of the show verbatim. Listen at your own risk!
Train Song – Vashti Bunyan
The title track for the first season, which plays over a montage of John and brother Ed playing as kids. I think this being the theme is another part of why Patriot is so hard to describe: it has a very wispy and particular acoustic sound to it. You can't quite describe it in tandem with the show itself, save for the lyric, "It won't be long," which is probably what John tells himself about how soon it'll be until he can finally relax.
Birds of Amsterdam
THIS is a good example of what Patriot's about. As explained by his father, Tom, John is becoming more honest with his folk song lyrics. This would normally be a good thing for a songwriter, but not when you work in intelligence. Cut to John, who divulges the happenings of his last mission: his accidental assassination of a hotel maid due to bad information, his capture by the secret police, his increasing paranoia and smoking a lot of doobies while laying low in Amsterdam.
"I just been getting baked, just looking up at birds… wonderin' why there aren't male hotel maids in other countries…"
If I Needed You – Townes Van Zandt
The pilot episode features a father-and-son duet of this folk classic while John is getting briefed on his mission. There's a tragic angle to the relationship between John and Tom; John is loyal to his country and his father, whereas Tom often prioritizes the mission before his son's well-being. There are likely other agents who could handle the "Point A to B" mission, but Tom chooses his son every time, trusting him to do the best job. And John always does deliver. But at what cost?
Afternoon Spray
John, as elaborated on in a flashback mid-season one, recorded folk music under an assumed name with a buddy from Amsterdam, Rob Saperstein (Mark Boone Junior). Upon their first meeting in a bar, Rob teaches John how to find happiness in his music – a folksy Hakuna Matata, if you will – which emotionally resuscitates him after his traumatic torture experience. Rob, meanwhile, depends on his friendship with John to remain emotionally stable amidst his crumbling personal life. They develop an EP together after a night of drinking and talking about music. The subsequent endearing relationship between John and Rob is one of the series' best.
Likewise, their most popular track, Afternoon Spray, is double great. This is probably the most traditionally-structured song on Patriot's soundtrack – that is, one of the least literal tracks. There's some wonderful pickings and harmonies that back Michael Dorman's cool vocals. 
Dead Serious Rick
In season one's final episode, John's brother Edward, who goes by the nickname "Cool Rick",  is mortified upon learning the full extent of John's work. The rest of the track is dedicated to John's internal conflict and longing for simpler times, as well as a therapy dog he misses.
Sure Shot – Beastie Boys
The Beastie Boys: Cool Rick's favorite band! "Sure Shot" serves as the theme for season two, and accompanies a stylized mashup of the main cast of characters strolling through Paris during the intro. In a way, it resembles the original music video (linked above), while also illustrating the overarching situation of the season.
"'Cause you can't, you won't, and you don't stop."
John's adversities and hardships won't stop – preventing him from even considering the notion of stopping to rest. Yet another perspective on John's state of being.
Cody, Cody – Flying Burrito Brothers
This illustrates the morphine-induced highs experienced by season one's antagonist, Leslie, as he hits his series low-point. By the start of the season, Leslie is a former titan in the world of piping who used to struggle with addiction. After losing his family and company, a sobered Leslie has climbed back to a position of significance: divisional head of the piping firm John assimilates into. Leslie is inadvertently (and sometimes deliberately) caught in the crosshairs of John's mission. Literally. By the end of season one, Leslie has been shot in the face. Season two opens with Leslie recovering in the hospital… where his morphine drip presents the call of addiction yet again.
"I hear your voice… calling me to play."
 Leslie's subsequent battle with his former self casts him as one of the show's most compelling characters throughout the second season.
French Gun
John needs to get a gun in France come season two, and explains how difficult it is to get one. After some deduction, John realizes he needs access to a list of gun owners in France so he can steal one. The location where the list is stored is heavily guarded, except for a single balcony. John, always without proper assistance and equipment, jumps from the roof to reach said balcony. After remaining unconscious for 17 minutes, which he calculated beforehand, John casually walks in, takes the list and leaves through the front door.
Pretty Good – John Prine
Two lines you'll hear a lot when you watch Patriot: "Cool", and "pretty good". Sample conversation: "How ya' doing, John? 'Pretty good'". (Spoiler: John is NOT doing that good).
---
There are many, many other great tracks to hear in Patriot. Other great selections – such as "Ducks", "Charles Grodin", or the entirety of the second season's punk-rock/acoustic-folk – soundtrack – can be streamed or purchased through Amazon Music.
Patriot has yet to be renewed for a third season. Amazon has yet to officially cancel it, however: in a meeting with the press in February, Prime Video executive Albert Chang commented, "If you want it, write more about it".
Internet? I wrote this not only to share a quality soundtrack and show with you, but because a third season would provide us with more of it. You know what to do.
Do yourself a favor and check this show out. It really is a wonderful series, and you won't regret the experience. I know I haven't.
Patriot is available to stream with an Amazon Prime membership.
Photos courtesy of Elephant Pictures/Amazon Studios.