Episode 53: Down the Home Stretch
Hang on for a minute...we're trying to find some more stories you might like.
Podcast: Play in new window | Download
Subscribe: Apple Podcasts | Android | RSS
With the NFL Draft all wrapped up, Jon Simon and Ryan Rabinowitz begin this week's episode with Impact alum Michael Downes on the line, breaking down the Lions' choices, Brian Allen's selection, and much more (1:36). Then, they welcome in three senior members of the MSU club lacrosse team in the midst of a very successful season (22:25). They follow it with America's favorite segment, the 10 in 10 (34:30), with a special twist: America's favorite moderator Tom Kfoury takes on a co-host position! Finally, they look at the action in the NBA and NHL playoffs (52:42).
About the Writer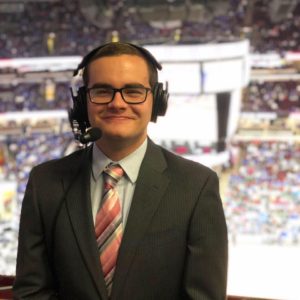 Ryan Cole, Author
Ryan Cole was the Sports Director at Impact 89FM. He was promoted from Assistant Sports Director in December 2016. He graduated with a degree in journalism from Livonia, Michigan. He covered MSU club football in Fall 2015 and was the lead men's basketball reporter for Impact. He co-hosted the MSU men's basketball podcast, Impact Izzone, with Davey Segal. Ryan also interned for Spartan Sports Network.