Episode 49: March Madness with Nate Oats
Hang on for a minute...we're trying to find some more stories you might like.
Podcast: Play in new window | Download
Subscribe: Apple Podcasts | Android | RSS
The national championship game is set. Davey Segal and Jon Simon review Saturday's Final Four games and look ahead to Monday's Villanova-Michigan matchup (2:55). Then, they're joined by Buffalo men's basketball coach Nate Oats to talk about his team's monumental first-round upset of Arizona and March Madness as a whole (14:34). Next is America's favorite segment, the 10 in 10 (33:23), followed by a hearty debate over legacies for two outgoing Spartans (48:00). Finally, they look at NBA decisions for some MSU men's basketball players (53:15).
About the Writer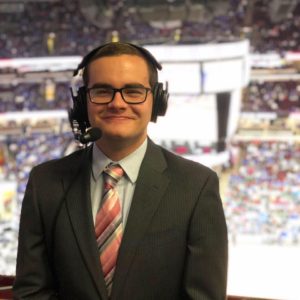 Ryan Cole, Author
Ryan Cole was the Sports Director at Impact 89FM. He was promoted from Assistant Sports Director in December 2016. He graduated with a degree in journalism from Livonia, Michigan. He covered MSU club football in Fall 2015 and was the lead men's basketball reporter for Impact. He co-hosted the MSU men's basketball podcast, Impact Izzone, with Davey Segal. Ryan also interned for Spartan Sports Network.