Swept: Spartans fall to Michigan 6-3 at Yost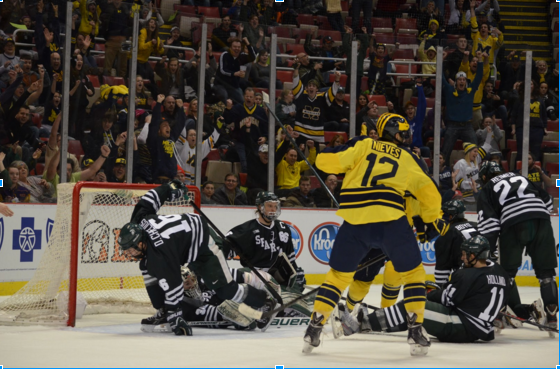 With just about five minutes left in regulation, the Children of Yost began to chant.
They chanted for about 45 seconds words that fill every Spartan heart with rage.
"Little Brother! Little Brother! Little Brother!"
Mike Hart's infamous line that became part of the Michigan State, University of Michigan rivalry lore.
Then after UM freshman Kyle Connor iced the Wolverines 6-3 victory with an empty net goal they chanted again.
"Roll Tide Roll! Roll Tide Roll!"
Alluding to Michigan State football's crushing loss to Alabama in the College Football Playoff.
The Yosters' childish mockery was a stark reminder that as good as MSU is at football and basketball, hockey still remains Michigan's domain of dominance.
Spartan Head Coach Tom Anastos had no lines of retribution, no prophetic promises. He remained focused on his team.
"Where we are with our game, we have to build the game," Anastos said.
While he thought that there were some positives to the Spartans' play on Saturday, Anastos' message was simple; "We have to find game."
When asked to elaborate what "game" meant Anastos said, "When I say 'find some game' some game that you know you can believe in and you can bring every night."
The Spartans had some "game" early in the first period. Michigan State came out hungry and intense, with an effective forecheck and efficient defensive play. Within five minutes into the game, sophomore Dylan Pavelek, who hasn't seen much ice time all year, found himself one-on-one with Michigan goaltender Steve Racine.
"I just saw right away that he [Racine] had had his glove down a little bit so I let'er go right over the glove," Pavelek said.
Pavelek's first of the season gave MSU the 1-0 lead, but with less than two minutes left in the period Michigan tied it up, off of a Dexter Dancs shot. As the period ended MSU was assessed a minor penalty after Rhett Holland delivered a late hit as the horn sounded, the Wolverines took the opportunity and scored early in the second, shortly after Thomas Ebbing hit the post on a shorthanded breakaway.
Less than two minutes later Michigan extended their lead to 3-1. It would later be 4-1 after Wolverine defenseman Nolan De Jong's point shot curve-balled on Spartan goaltender Jake Hildebrand and the Spartans found themselves in a similar spot as previous night. Michigan forward Tyler Motte made it 5-1 after driving hard to the net and chipping the puck over Hildebrand's shoulder.
For a time it looked like Ed Minney would be inserted and Friday's result would be repeated all over again. Michigan State could have folded, instead, they rallied.
"I give our guys a lot of credit tonight, you go down 5-1 at Yost and we kept battling right to the end there," said senior captain Michael Ferrantino.
Villiam Haag, another player struggling to see the ice, made it 5-2 after his shot from the slot sneaked passed Racine. As the period came to a close, the Wolverines took two consecutive penalties to give the Spartans a five-on-three for over a minute. As the period was about to expire, Ferrantino put home a rebound on the short side to give the Spartans life heading into the third period.
However the Wolverines closed ranks and shutout Michigan State. Despite an early powerplay, and some quality chances, the green and white just could not break through, suffering their first sweep at the hands of Michigan this season.
The Spartans now fall to 5-15-2 on the season (1-5-0 in the Big Ten) and are in the middle of a six game winless streak.
Despite this, Ferrantino said that he and his teammates will soldier on and work through this rough patch.
"I think the best thing we have is each other," Ferrantino said. "We've got a group of workers, we've got people who all like working and we'll do whatever it takes to get it done."