Concert Review | Quelle Chris Live at Stoopfest 2023
Surging through every park, backyard, garage and bar during Stoopfest, Lansing's annual not-for-profit DIY festival, is one thing: intimacy. During Stoopfest, there is an unspoken togetherness residing in the little interactions between members of the surrounding community, whether that be through petting dogs and conversing with their owners, through exchanging stories and goods with local vendors, through lying back with others on the same cool grass or through whatever else may emerge when music is present, friends are near and potholes are ubiquitous. 
As the sun was setting on day one of Stoopfest and 9 p.m. rolled around, that aforementioned intimacy was about to take its most concrete form yet. Detroit rapper Quelle Chris took the stage, conversed with crowd members, exited the stage, lit a cigarette, re-entered the stage and kicked off his performance with "Alive Ain't Always Living."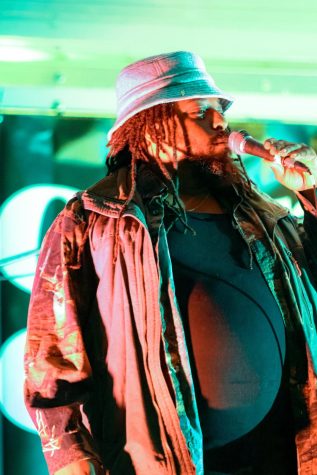 After this opening track, Quelle Chris set expectations for the rest of his performance, saying, "We're gonna do some of this rap shit… We're gonna fly outta here through a couple of trees." 
What followed was indeed some of this rap shit. And, in the end, I'd say the crowd flew out of Hunter Park through a couple of trees, on the back of a performance based around self-love, healing and letting an entire crowd's emotions scream upward into the night sky's loving, undisturbed arms.
During Quelle Chris' performance of "Buddies," he had the crowd sing along with him as he said, "I fuck with myself" and "I just might jump back and kiss myself" before turning his back to the crowd, pretending to passionately kiss himself and smacking himself on the butt. 
After "Buddies" concluded, he broke out into a five-second cover of Justin Timberlake's "SexyBack," shouting "I'm bringing sexy back" into the mic. Then, because quoting Quelle Chris's performance is just too much fun, he re-set expectations for the crowd, saying "We're gonna travel back through time and do 420 twice" before discussing how he and the crowd were building a Voltron through this experience.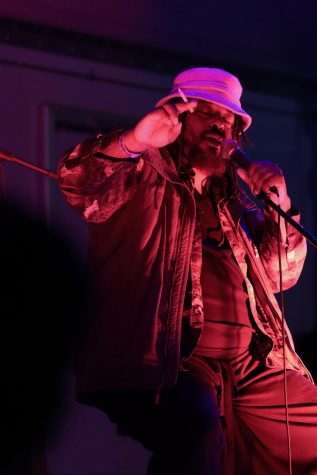 For those unaware, Voltron is a massive robot piloted by space explorers from the animated shows Voltron: Defender of the Universe, Voltron Force and more. In Voltron: Defender of the Universe, Voltron is formed when these five space explorers — who each command a robot lion — combine the lions into one super robot. 
Not too long after his Voltron epiphany, Quelle Chris had the crowd close their eyes and picture their spirit animals. Then, he asked everyone to think about the sound those spirit animals would make before leading an organized cacophony in which everyone bellowed together. Throughout his next song, the spirit animal bellows exploded and faded at his beckoning. 
Following the uncaging of Lansing's spirit animals, Quelle Chris proposed a toast using a half-full water bottle which he jokingly lamented as unfit for the toasting job. When he asked a fan what everyone should toast to, the fan yelled, "We're toasting to the Ghost of Christmas Past." Laughing, Quelle Chris raised his bottle, and "to the Ghost of Christmas Past" it was. 
"Popeye" blessed the crowd a couple tracks later, and, according to Quelle Chris, it was step six of the Voltron form. 
"Straight Shot" followed, and Quelle Chris took the opportunity to put the bond between him and the crowd into words. He stated that so many look at live shows like it's someone standing up on a stage and being isolated/unbound to the people singing and dancing below, but he wanted to grind that notion to dust and blow it away. As he put it, "We're all sharing in this moment together."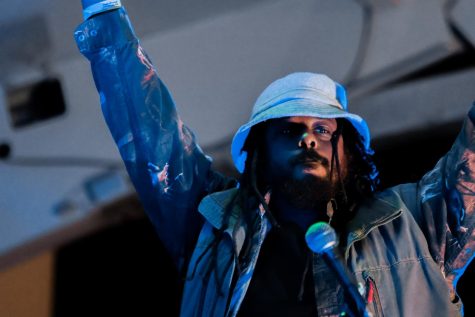 For Quelle Chris and Stoopfest as a whole, intimacy is the creature that runs through everything beautiful about live music. The live setting brings a deep connection to self, to community, to life entirely. For an existence fractured, withering, blooming, healing: "We're all sharing in this moment together."
The next song was an apt one: "Sudden Death," in which "You'll find it's worth it, 'cause life ain't perfect" serves as the closing line. 
And, to end a night of spirit animals, Voltron, the Ghost of Christmas Past, marijuana and intimacy, Quelle Chris had the crowd moving with its greatest ferocity yet to "Obamacare."
The performance was a beautiful transition into Stoopfest's second day, and it was also a much-needed reminder of what we forget all too often: that in this life, in this place, with these people, "We're all sharing in this moment together."