Bleeding green this St. Patrick's Day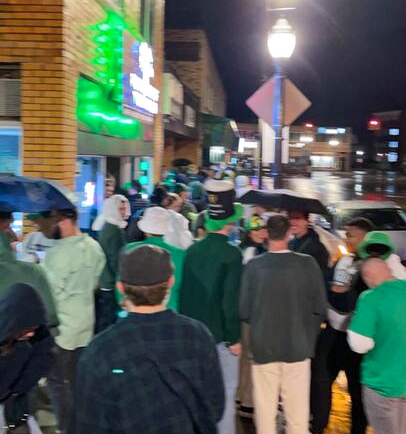 East Lansing and the Spartans of Michigan State University are no strangers to green, but this St. Patrick's Day there was a tsunami of green flowing down Grand River Ave.  
The annual St. Patrick's Day celebration was in full swing March 17. The streets of East Lansing were filled with parades, leprechauns and of course, the tradition of pinching those not wearing green. MSU junior Christina Christos said, "It's one of my favorite holidays. There is nothing like East Lansing on St. Patrick's Day." 
Local business owners say the preparation for Friday took nearly a week because the holiday was not the only thing the Spartans were celebrating. The Spartans cheered on their men's basketball team, who were competing in the NCAA March Madness tournament.  
The Spartans enjoyed their holiday responsibly with the help and reminders from the East Lansing Police Department.
Lieutenant Adrian Ojerio said, "The East Lansing Police Department did take extra measures to ensure that the public would have appropriate police services if needed." 
Minus the hour-long bar lines, the holiday was a success for the Spartans of East Lansing. Was the luck of the Irish in your favor this holiday?