Stoddard Starbucks workers go on strike
Stoddard Starbucks workers went on strike the weekend of December 16th due to unfair working conditions. They could be seen outside the business holding signs in protest. 
Matthew Kain, 27, is the labor organizer for Chicago and Midwest Regional Joint Board Workers United.
"What is happening here today is we are on day three of a three-day strike at this East Lansing location. We also have four other stores around the state of Michigan on three-day strikes, and I believe around 100 other stores on three-day strikes this weekend" said Kain. 
Kain said that these shops are on strike due to the illegal closing of Union Starbucks shops around the country. 
Matthew Wehrmister, 19, has been an employee at Starbucks for seven months and is one of the head organizers of the protest.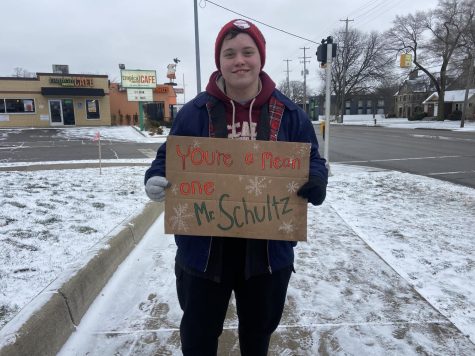 "They've closed two Union stores thus far for safety reasons that management could easily fix and are required to fix" said Wehrmister. 
He said that Starbucks is understaffing the stores, especially during the holidays. This restricts timely coffee production which is both unfair to the employees and the customers. 
Wehrmister said that management refuses to sit down and bargain at this time. He said that the cooperative has not been responsive. 
"We've received feedback from the general public. It's mostly positive" said Wehrmkster, "Some people aren't happy about it and just want their bean water." 
Cars drove by and honked in support as these individuals stood outside in freezing temperatures.