It's Still Just the Beginning for Lesbian Jesus | Concert Review and Q&A
Hayley Kiyoko is back! The pop star recently released her sophomore album, Panorama. Many fans are excited for the singer's comeback, especially since she recently joined Lauv on his All 4 Nothing tour this summer. I got the inside scoop on Kiyoko and her new music thanks to her VIP meet-and-greet Q&A session at the Meadow Brook Amphitheater.
"What is your favorite music video that you have directed so far?" I asked. "That's a great question," said Kiyoko. "Well, I love all of them. One of my favorite music videos that I am the most proud of is 'Feelings.' That was a true one-take. We rehearsed the day before and there was a very theatrical approach to it, so I was very proud of the way that video turned out." 
Other fans had the opportunity to ask her questions as well. "If you were to give your younger self any advice, what would you tell yourself?" asked a fan. "Well, my younger self would not listen to the advice, but I would probably tell her to believe in yourself more. Believe in your instincts more. My instincts were always correct, but I never listened to them. Whether it was with women, dating or just life in general. I would also tell her to be patient, but my younger self would tell me to eff off," answered Kiyoko. 
"How do you know what your music videos will look like for your songs?" asked another fan. "It's very different for every song," said Kiyoko. "Sometimes I'll write a song and know exactly what the video is going to be. Like 'Gravel to my Tempo' was exactly how I pictured it. Other times, I'll try reimagining the idea depending on the budget and time. I have a creative side but also a very business side of my brain. There can be restrictions to that, but also it makes you ask 'How can I make something out of nothing?' I might not be able to get a director, so I will direct my video."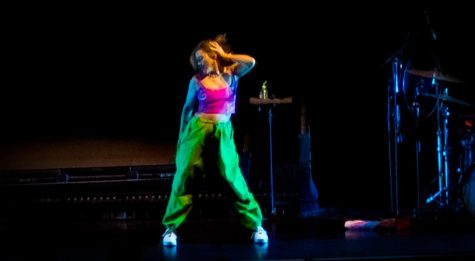 Another fan wanted to touch on Kiyoko's film and television career: "Not to take away from your music, but would you be interested in acting again anytime soon? If so, what kind of project would you want to be on?" In response, Kiyoko said, "It is on my bucket list to be some kind of superhero at some point. I've always wanted to be a superhero. I would love it to be something sci-fi, ass-kicking and cool. That would be awesome. Hopefully that is in my near future. I do like acting, so when the right role comes around I'll do it." 
This is when I had to take the opportunity to say "You're our superhero Hayley." Everyone chimed in saying how she definitely was. She said we were so sweet and she loved us.
Another interesting thing that she mentioned during the Q&A session is the fact that she is trying to take the idea from her "Girls Like Girls" music video and make that into a feature film. Her fans were excited to hear that.
After the Q&A session, it was time to take a photo with Lesbian Jesus herself. When it was my turn, I was fortunate enough to be able to ask her another question.
"What has been one of your favorite moments of your career so far?" I asked. "When I won the VMA. That was such a surreal moment," said Kiyoko.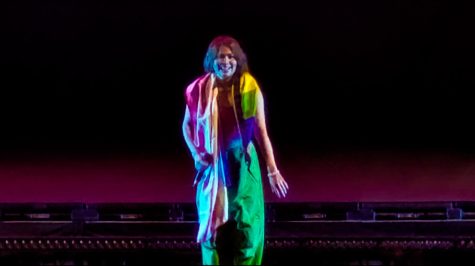 She won a VMA in 2018 for being the Push Artist of the Year. In her acceptance speech, she said, "I'm so happy. This validates a queer woman of color that you can follow your dreams. I love my fans, they gave this to us. We did it, 20-gay-teen!" 
Later that year, she also accepted the Rising Star award at Billboard's Women in Music event, saying "Thank you Billboard for having me. It has always been a dream of mine for me to be known by you. I want to thank my fans and let them know that nobody wants to be brave. We're all terrified. I'm very grateful to my fans because of their overwhelming support and faith in me. I've found my purpose in life and the ability to embrace my truth. Necessity is the mother of invention and I am the artist that I am out of necessity. I appreciate you all for the opportunity and the chance to be up here." 
Before Hayley Kiyoko became infamously known as "Lesbian Jesus," a nickname her fans call her, she appeared on Disney Channel, playing Stevie in Wizards of Waverly Place and Stella in the movie Lemonade Mouth. Kiyoko is also adored for her past role as Velma in Scooby Doo! The Mystery Begins, which aired on Cartoon Network. In 2013, she released her first EP, A Belle to Remember. But when Kiyoko released her music video for "Girls Like Girls" in 2015, her fans could not get enough of her. Today, the video has over 148 million views. Her music video displays a happy ending for two young gay girls, which was still not mainstream content at the time. 
In 2018, Kiyoko spoke to Billboard about the video and what it means to LGBTQ+ people around the world: "That was the whole point of doing that video. Growing up, there was just no content that was hopeful. It was like every video or movie that I watched that involved any romantic story between two women would end in suicide. Or it would make me feel terrible about liking girls. So, I needed to do something that ended on a positive note because there is hope and I need to spread that."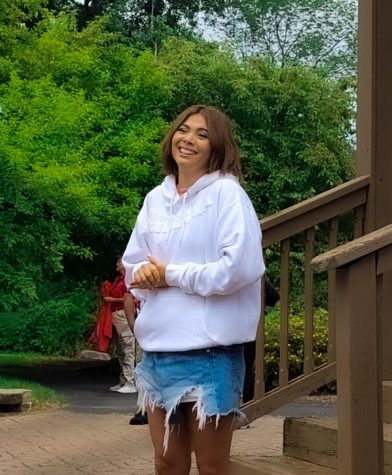 Kiyoko's music videos are fun, meaningful and incredible. Her songs and visuals tell inspiring stories that have been so helpful for fans, especially since it is still hard to find popular LGBTQ+ artists in the music industry. 
In another interview with Billboard, she said, "I realized through this process that there is no 'gay popstar.' There has never been that woman that owned it and said this is who I am. I'm going to make out with girls and own it. Then I was like 'This has to be me.'" 
Kiyoko has been on a few tours, including her own Expectations Tour, and opened for Panic! at the Disco back in 2018. Many of her fans were so glad to hear that she was going on tour this year and were very excited to hear that she planned to do meet-and-greet sessions as well.
Her career is still just beginning and yet she has inspired so many of her fans, especially those in the LGBTQ+ community. It is not surprising that so many of her fans were excited to see her perform on tour again.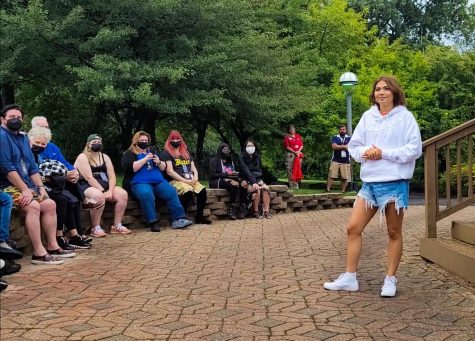 During the show, she performed a lot of new songs from her latest album, Panorama, including "Sugar at the Bottom," "Forever," "Deep in the Woods," "Underground," "For the Girls," and "Panorama." Kiyoko also made sure to include some classics like "Curious" and "Girls Like Girls," which was the last song of the show. She did some cool dance breaks and made sure to wave her pride flag during "Girls like Girls." After that final song, she tossed her flag to a fan in the front row. It is clear that Hayley Kiyoko means a lot to her fans and is a very talented person. 
Until she releases more projects, consider listening to her newest album, Panorama: