Concert Review | Fans Counting Stars at Pine Knob With OneRepublic
Pine Knob was filled with eager OneRepublic fans waiting in the pavilion and all over the lawn for the band to perform. But before it was time for the main act, singer Brynn Cartelli sang a few songs that she wrote, including "Jane," "Gemini" and a new song, "Girl Code," that is to be released soon.
Cartelli is not just any singer, she is the winner of season 14 of The Voice, having won as part of Kelly Clarkson's team. At the concert, she sounded beautiful and opened up about each of her songs. She shared with the audience that she had never sang "Jane" without playing her piano, but wanted to try singing without it this time. She still did a stunning job. There is no wonder that Cartelli is a winner of The Voice.
 The next opening act was Christian rock band NEEDTOBREATHE. The lead singer, Bear Rinehart, wore a bright white jacket with a white cowboy hat to match. Talking to the crowd, he said, "How are we feeling? It's good to see ya. We've been coming here for a long time in the Detroit area. We appreciate the opportunity to perform in front of a large crowd like ya. I'm from a town called Possum Kingdom, South Carolina. Yes, that is the actual name of the town. There are about 50 people that live there, so it's one in a million to play in front of this many people. We are so thankful. Let's do this thing!"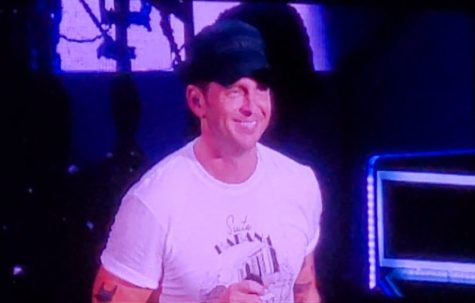 NEEDTOBREATHE played songs like "Great Night," "Feet Don't Fail Me Now," "Banks," "Money & Fame," "The Outsiders," "Talk of the Town," "Washed by the Water" and "Brother." They even played snippets of "Pony" by Ginuwine and "Apologize" by OneRepublic, which drove the crowd wild. 
"It's been ten years since the last time we opened up for an artist. That artist was Taylor Swift," said Rinehart. "Thank you all so much. We appreciate it. OneRepublic is amazing. They're even better people backstage."
NEEDTOBREATHE had many wickedly talented electric guitar players, along with amazingly gifted saxophone, harmonica and violin players. They got the crowd jumping on their feet, especially the women wearing identical pink shirts in the front row.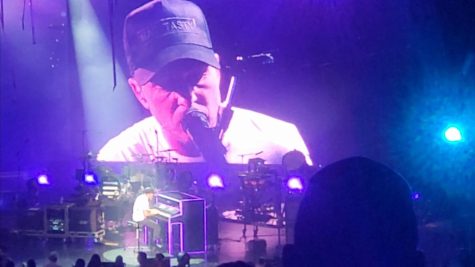 Rinehart also told the fans about their journey in the music industry so far: "After I moved to Nashville, nobody recognized me there because everyone just wanted to see Dolly Parton. I went to the dry cleaners one day and the lady at the front counter asked me, 'Why do you have all these shiny shirts?' I told her I was in a rock n' roll band. She asked me what the name of our band was and I said NEEDTOBREATHE. She said she never heard of us. I then told her that we do have a song with Carrie Underwood and she was surprised. She thought that was really neat. It feels good to have that credibility, ya know? We all want that validity." 
When NEEDTOBREATHE's set was nearing the end, Reinhart introduced each of his bandmates to the crowd and decided to walk off the stage and into the crowd. "I see you all in the back and you paid a lot of money for this ticket. I know you've been standing there for a while, holding your place. We thank ya!" exclaimed Reinhart.
NEEDTOBREATHE put on a heck of a show and warmed up the audience for the main act: OneRepublic. It wasn't long before the large screens appeared with a pretty sunset and palm trees. The band walked out on stage and picked up their instruments. Then lead singer Ryan Tedder walked out on stage and they opened their set with "Kids." As they played, large streamers shot into the audience. The show was only just getting started.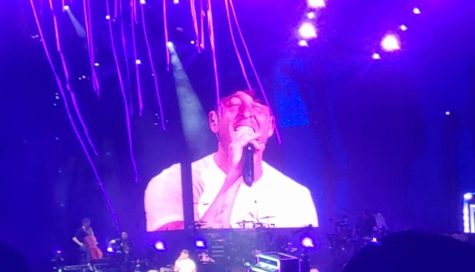 The next song they played was one of their big hits, "Good Life." Tedder played the tambourine as he sang along. He even changed the lyrics in the song. He sang "my friends in Detroit, they all know" and "Paris, to Michigan, to Colorado" to show some love to our state. This encouraged the fans to scream excitedly. At the end of the song, he mixed "Good Life" with elements of Kate Bush's song, "Running Up That Hill." The stage's bright blue lights shifted to dark red, which was reminiscent of the Netflix show Stranger Things. Adding those lyrics to their song was a treat for the audience, but OneRepublic had even more surprises for the audience that night. 
The band made sure to play their many hit songs, including "Stop and Stare," "Secrets" (making sure to play the cello and violin live), "Love Runs Out," "Apologize" and "I Lived." The fans sang along to OneRepublic's hits loudly.
Some fans had bright neon signs with their favorite OneRepublic songs on them and one couple even had a sign that said "Newly Divorced." Tedder joked with the audience, telling the couple congratulations, but thought what he said sounded weird. "I'm happy that you're both liberated. There we go, that sounds better," said Tedder. "Speaking of liberation, this is the first full-fledged U.S. tour we have done in a while. I remember it had been a while since we went on tour. In 2019, I told everyone that I think the second half of March in 2020 is when we need to go on tour. It felt lucky, ya know? Like, St. Patrick's day and stuff. But that didn't work," said Tedder.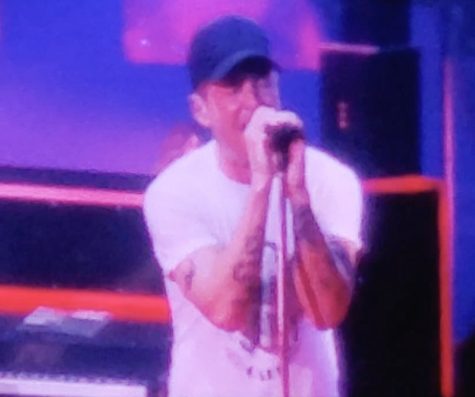 He knew how to have fun with the fans, encouraging them to sing along by saying, "The more you drink, the better you sound." OneRepublic and their fans were having a good time. But Tedder wanted to add something a little different to this tour. He expressed that he has wanted to do this on tour for many years, so he decided to finally do it for this tour. To continue with this tour's trend, he sang songs that he wrote for artists in the past. They were songs that people at record labels said were garbage and unfit for radio. Yet all the songs went number one in many countries around the world.
He shared with the audience that he wrote "Halo" by Beyonce, "Bleeding Love" by Leona Lewis, "Burn" by Ellie Goulding, "Rumor Has It" by Adele, "Maps" and "Love Somebody" by Maroon 5, "THAT'S WHAT I WANT" by Lil Nas X and "Sucker" by the Jonas Brothers. Many fans were shocked that he wrote so many hit songs, including ones outside of OneRepublic's discography. Because of his experience with some people in the music industry not believing in him, Tedder told the audience that he no longer cares what anybody thinks of his writing skills. As he shouldn't.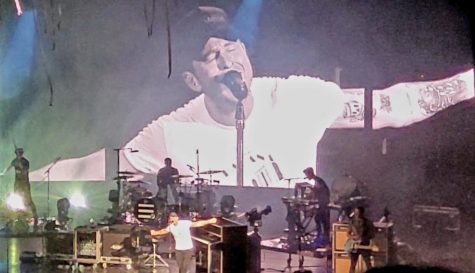 After playing that surprise setlist, he went back to playing OneRepublic's music. In fact, the next thing that appeared on-screen was a video from Tom Cruise expressing his gratitude towards the band for writing the hit song "I Ain't Worried" for the incredible movie Top Gun: Maverick, which came out this year. In the video, Cruise said, "We talked to Ryan and wanted something within the world of Top Gun that was modern and also had a classic vibe to it. This was on a Wednesday evening and the very next day they delivered the song. It's the song. I am very grateful to you, Ryan, and OneRepublic. I wish I was there with you to hear this next song, but have fun. I hope you enjoy your evening." 
As the band sang "I Ain't Worried," visuals from the movie appeared on every screen, showing Tom Cruise flying jets and the guys playing football on the beach. It was a fun sight to see. 
OneRepublic appeared to be done, but the fans weren't done with them. Many fans were cheering for an encore. The band came back out and played their biggest hit, "Counting Stars." OneRepublic proved to the fans that night at Pine Knob that the more you have fun, the more that summer feels never-ending.